Books | Apr 25, 2022
Curtis Brown authors featured in Queen's Jubilee reading list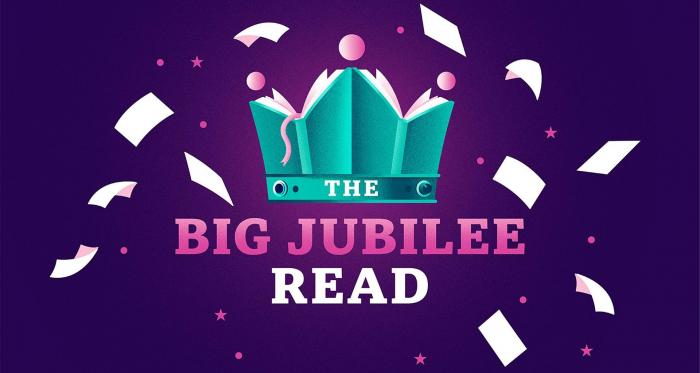 Curtis Brown authors have secured six spots in the Big Jubilee Read, a collection of 70 titles from across the Commonwealth – ten for each decade – to celebrate the Queen's record-breaking reign in honour of the Platinum Jubilee. The six books are below:
The Sea, The Sea by Iris Murdoch (1978, England)

When Charles Arrowby retires from his glittering career in the London theatre, he buys a remote house on the rocks by the sea. He hopes to escape from his tumultuous love affairs but unexpectedly bumps into his childhood sweetheart and sets his heart on destroying her marriage. His equilibrium is further disturbed when his friends all decide to come and keep him company and Charles finds his seaside idyll severely threatened by his obsessions.
The Hitchhiker's Guide to the Galaxy by Douglas Adams (1979, England)
It's an ordinary Thursday lunchtime for Arthur Dent until his house gets demolished. The Earth follows shortly afterwards to make way for a new hyperspace express route, and his best friend has just announced that he's an alien. At this moment, they're hurtling through space with nothing but their towels and an innocuous-looking book inscribed, in large friendly letters, with the words: DON'T PANIC. The weekend has only just begun…
The Handmaid's Tale by Margaret Atwood (1985, Canada)
Offred is a Handmaid in The Republic of Gilead, a religious totalitarian state in what was formerly known as the United States. She is placed in the household of The Commander, Fred Waterford - her assigned name, Offred, means 'of Fred'. She has only one function: to breed. If Offred refuses to enter into sexual servitude to repopulate a devastated world, she will be hanged. Yet even a repressive state cannot eradicate hope and desire. As she recalls her pre revolution life in flashbacks, Offred must navigate through the terrifying landscape of torture and persecution in the present day, and between two men upon which her future hangs.
Tinker Tailor Soldier Spy by John Le Carré (1974, England)
A mole, implanted by Moscow Centre, has infiltrated the highest ranks of the British Intelligence Service, almost destroying it in the process. And so former spymaster George Smiley has been brought out of retirement in order to hunt down the traitor at the very heart of the Circus - even though it may be one of those closest to him. The first part of le Carré's acclaimed Karla Trilogy, Tinker Tailor Soldier Spy sees the beginning of the stealthy Cold War cat-and-mouse game between the taciturn, dogged Smiley and his wily Soviet counterpart.
Girl, Woman, Other by Bernardine Evaristo (2019, England)
This is Britain as you've never read it. This is Britain as it has never been told. From Newcastle to Cornwall, from the birth of the twentieth century to the teens of the twenty-first, Girl, Woman, Other follows a cast of twelve characters on their personal journeys through this country and the last hundred years. They're each looking for something – a shared past, an unexpected future, a place to call home, somewhere to fit in, a lover, a missed mother, a lost father, even just a touch of hope…
A Passage North by Anuk Arudpragasam (2021, Sri Lanka)
It begins with a message: a telephone call informing Krishan that his grandmother's former caregiver has died. As Krishan makes the long journey by train from the Sri Lankan capital into the war-torn Northern Province for the funeral, so he travels into the soul of a country devastated by civil war. Written with precision and grace, A Passage North is a luminous meditation on time and consciousness, race and national identity, and a poignant exploration of the unattainable distances between who we are and what we seek.