Theatre, Film and TV | Feb 7, 2020
Curtis Brown Creative confirms leading industry professionals for new TV Drama writing course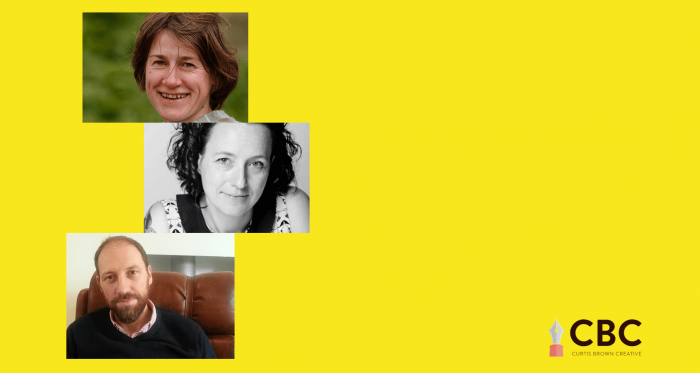 Curtis Brown Creative is thrilled to confirm Manda Levin, Senior Commissioning Editor for Development at BBC Drama; Writer and producer Tony Saint (The Interceptor, Das Boot, Margaret Thatcher: The Long Walk to Finchley), and Clare Alan, script editor and producer, will be joining their pioneering new course in Writing an Original TV Drama Serial created collaboration with Curtis Brown's TV, Film and Theatre agents.

They will each be presenting masterclasses covering a different phase of the development process, hosted by Curtis Brown TV and Film agent Jenn Lambert.
The new course aims to find talented new writers, help them to realise their potential through expert teaching, and open up the secrets of the television industry through a series of masterclasses from acclaimed TV professionals, including directors, producers and show-runners.
The highly selective 18-week course, starting in March, will be led by celebrated TV-writer, playwright and former Birkbeck Professor Colin Teevan. He will guide the 15 students through the process of developing their concepts and outlines for a six-part drama serial and writing a 60-minute pilot episode. The course will be rooted in the real-world of TV development and will culminate in one-to-one tuition from experienced script editor and producer Clare Alan, and a pitching session and networking drinks with the Curtis Brown agents. All classes will take place in Curtis Brown's central London offices.
Curtis Brown Creative launched 8 years ago with the mission of finding and nurturing talented new writers through our courses in London and online. So far, 77 novel-writing students have gained commercial publishing deals, including Jessie Burton (The Miniaturist), Jane Harper (The Dry), and Nicholas Searle – whose debut The Good Liar recently became a feature film starring Ian McKellen and Helen Mirren.
Anna Davis, MD of Curtis Brown Creative, says: "This is an exciting development for Curtis Brown Creative at a time when the TV Drama serial is getting bigger and bigger as a vehicle for long-form storytelling. The course has been in gestation for a while. It is now coming vividly to life, drawing on the invaluable expertise of Colin Teevan, and of our brilliant TV-agent colleagues. I'm sure we're going to find some great new writers."
Joe Phillips, joint head of Curtis Brown's Theatre, Film and Television department, says: "We're delighted to be joining forces with Curtis Brown Creative on this new venture. There's never been a better time to be investing in screenwriting talent in the UK and global TV industries. This course offers an unrivalled opportunity for new writers to access Curtis Brown's wealth of agenting expertise and high-end writing, directing and producing talent. We look forward to working with Anna and her team to find the next generation of UK screenwriting talent."
The course will run from 9 March to 13 July, and applicants are requested to send in the opening pages of a pilot script, plus a brief outline of the series. 15 places will be awarded based on the quality of concept and materials. One talented writer of limited financial means will receive a fully paid place, generously funded by HW Fisher.
Find out more about the course and apply here
Find out more about the HW Fisher Screenwriting Scholarship and apply here