Books | Feb 29, 2016
Global television launch for He Named Me Malala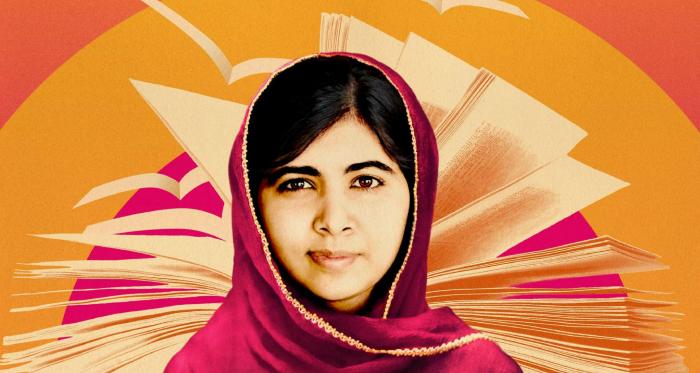 The BAFTA nominated documentary He Named Me Malala will be screened around the world in 170 countries and 45 languages in a partnership with 21st Century Fox and National Geographic Channel, starting with a commercial-free premiere in the USA on Monday 29th February.
Inspired by Malala Yousafzai's international bestselling book I Am Malala, the documentary is an intimate portrait of the youngest Nobel Peace Prize laureate. It includes archival footage of events leading up to the attack on Malala in October 2012, her speech to the United Nations, and provides an inside glimpse into her everyday life with her family and at school. 'He' in the title refers to Malala's father, Ziauddin, who ran a school in the Swat Valley in Pakistan and set an example for his daughter by campaigning for education. It premiered at the Telluride and Toronto International Film Festivals in September 2015 and was shortlisted for the Documentary Feature category at this year's Academy Awards. Reviewers have praised director Davis Guggenheim (An Inconvenient Truth) for his 'deft and affecting' storytelling in 'some of his most heartfelt work' (Hollywood Reporter), while Variety wrote warmly of the 'internationally beloved subject whose warmth, intelligence and fierce humanity all but radiate from the screen.'
For every tweet sent using the hashtag #withMalala during the US premiere, 21st Century Fox will donate $1 to the Malala Fund, for a charitable donation of up to $50,000. This initiative will be supported by a donation campaign on National Geographic's social media platforms, where $1 will be donated to the Malala Fund for every person who participates in a custom Facebook application transforming their profile photo into a yearbook picture, with female users' pictures then dissolving on the screen, shedding light on the 60 million girls currently out of school across the globe.
He Named Me Malala will be screened by National Geographic in the UK on 1st March at 9pm.
Further details and a preview are available on the National Geographic website.