Translation Rights | Dec 4, 2018
How to Change Your Mind and Educated chosen for The New York Times' 10 Best Books of 2018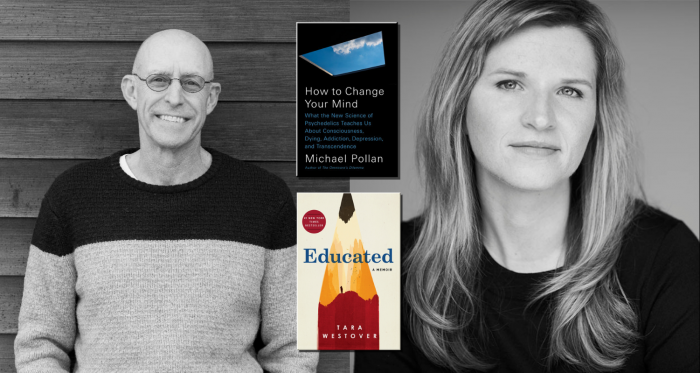 How to Change Your Mind by Michael Pollan and Tara Westover's memoir Educated have both been chosen for The New York Times' 10 Best Books of 2018, which includes both fiction and non-fiction titles and is chosen by the editors of The New York Times Book Review.
How to Change Your Mind: What the New Science of Psychedelics Teaches Us About Consciousness, Dying, Addiction, Depression, and Transcendence is Michael Pollan's seventh book, and his most personal to date. Pollan set out to research how LSD and psilocybin (the active ingredient in magic mushrooms) provide enormous relief to people suffering from difficult-to-treat conditions such as PTSD, depression and addiction. As his research progressed, he decided to explore the landscape of the mind in the first, as well as third, person. How to Change Your Mind thus developed into a unique and elegant composite of science, memoir, travel writing, history, and medicine. It debuted at #1 on The New York Times Bestseller List.
The New York Times' review claims that Pollan, "somehow predictably, does the impossible: He makes losing your mind sound like the sanest thing a person could do."
Educated by Tara Westover is a courageous and extraordinary memoir which tells the story of Westover's difficult Mormon upbringing and her triumph of self-invention over it. Westover grew up in Idaho, the youngest of seven children. She lacked a birth certificate and did not attend school, instead studying the Bible and the Book of Mormon and helping her mother, an unlicensed midwife, and paranoid father at home. Educated recounts how despite these difficulties, Westover embarked on higher education at the age of 17 despite having never gone to school and went on to earn a PhD in History at Cambridge.
The Financial Times praised Educated as "the story of a transformation so courageous, so entire, as to beggar belief..."
How to Change Your Mind was published in May 2018 by Penguin. It has been translated into 13 languages. Educated was published in February 2018 by Random House in the US, Hutchinson in the UK and HarperCollins in Canada. It has been translated into 27 languages worldwide.