Books | Sep 10, 2019
Margaret Atwood's The Testaments launches globally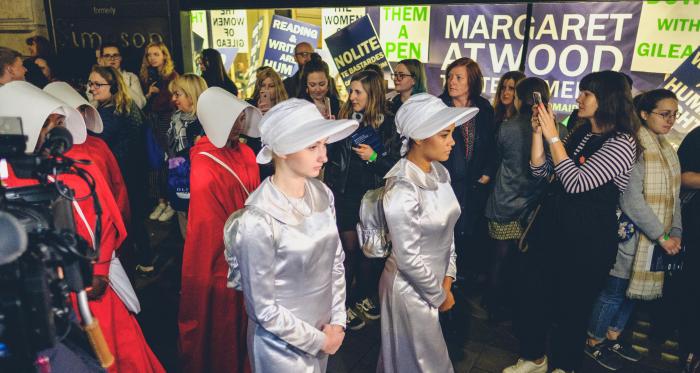 Margaret Atwood's The Testaments publishes globally on September 10, 2019.
The long-anticipated sequel to The Handmaid's Tale was celebrated with a sold-out midnight launch at Waterstones Piccadilly on September 9. This was part of an expansive one-night festival, headlined by Atwood herself featuring readings and interactivity from writers such as Elif Shafak and Neil Gaiman.
This is followed by a live appearance across stage and screens the next day. 'Margaret Atwood: Live in Cinemas' – an event organised by Fane Productions – will be broadcast to more than 1,000 cinemas across the globe, including screens throughout the UK, US and Canada, with delayed screenings planned in Australia and New Zealand.

The event will be filmed live from the Lyttelton stage of the National Theatre. Atwood will be interviewed by broadcaster and author Samira Ahmed on the length of Atwood's remarkable career, her diverse range of works and why she has returned to her seminal story, 34 years later. When asked about the launch, Atwood said:
"I am delighted that the launch of The Testaments will take place not only in London on 10th September, but also by live-streaming to over 1000 cinemas around the world . . . I can't be in all the places at once in my analogue body, but I look forward to being with so many readers via the big screen."

Alex Fane, of Fane Productions, commented: "To launch her new novel on an unprecedented global scale feels like a fitting gesture for such an innovative author whose work speaks to so many."
The celebrations will continue across an 8-date tour spanning from London to Newcastle to Dublin. More information on the tour can be found here.
The Testaments is published by Penguin Random House across the English-speaking world: by Chatto & Windus/Vintage in Australia, New Zealand, South Africa and India, as well as in the UK; by McClelland & Stewart in Canada; and by Nan A. Talese/Knopf Doubleday in the US.