Books
Margaret Atwood's Alias Grace adaptation coming to Netflix
Nov 1, 2017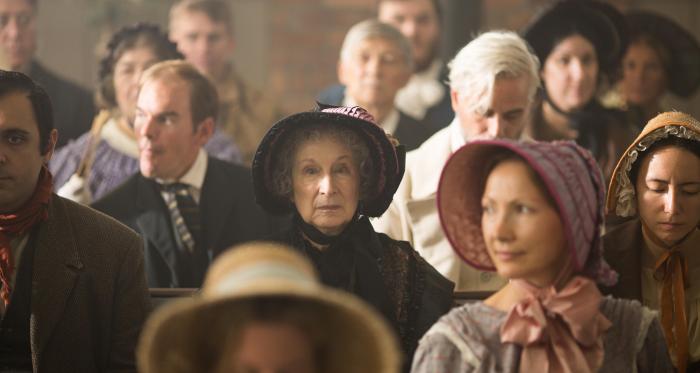 The adaptation of Alias Grace, Margaret Atwood's 1996 novel, will be available on Netflix this Friday, 3 November. Set in Victorian Canada, Alias Grace follows convicted murderess, Grace Marks, as Dr. Simon Jordan attempts to determine whether Marks was insane and could now be pardoned. The screenplay was written by Sarah Polley, a Canadian screenwriter and director (known for Away from Her and Take This Waltz), and directed by Mary Harron (I Shot Andy Warhol, American Psycho).
The six episode mini-series stars Sarah Gadon as Grace Marks, and has already received acclaim from critics. The Hollywood Reporter praised the series as "consistently literate, thoughtful and insinuating," while Variety noted, "Gadon, as Grace, is transporting: Her performance is the foundation on which "Alias Grace" is built." The series also features a cameo by Atwood herself, seen above.
Alias Grace is co-production of Netflix and CBC, and is the second streaming adaptation of an Atwood novel this year. Hulu's The Handmaid's Tale, starring Elizabeth Moss as June, won several Emmys, including Outstanding Drama Series and Outstanding Leading Actress for Moss.
Image courtesy of Halfire Entertainment, Photographer Sabrina Lantos.