Translation Rights
Nadia Murad honoured by Sundance and the Hillary Rodham Clinton Foundation
Feb 8, 2018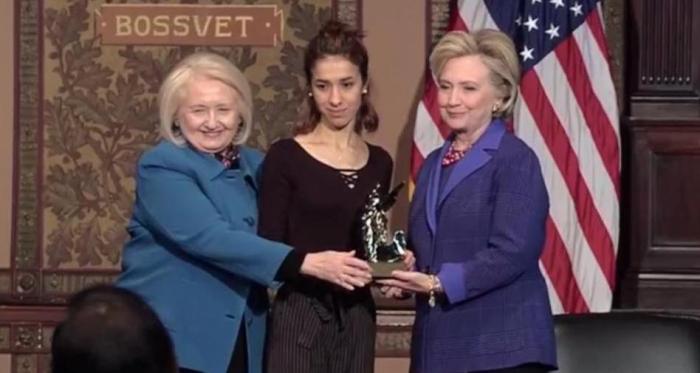 Alexandra Bombach has won the Best Director for a US Documentary Award at the Sundance Film Festival 2018 with On Her Shoulders.
The film presents Nadia Murad's account as an activist, author and UN Goodwill Ambassador, constantly working to find the most influential platforms in the world to tell her story, with the goal of bringing crimes against the Yazidi people to light globally. The filmmaker reveals the relentless work, personal pain and profound ethical urgency that come alongside the task of seeking justice.
In addition to this accolade, Nadia received a human rights award from Hillary Clinton at the annual Hillary Rodham Clinton Award Ceremony at the Georgetown Institute for Women, Peace, and Security.
The award honours Nadia for her work in bringing members of ISIS who committed genocide against the Yazidi people to justice, which she has been working on in both her capacity as Founder of Nadia's Initiative and as UN Goodwill Ambassador for the Dignity of Survivors of Human Trafficking.
Clinton said in her speech, "When you listen to Nadia's story, you realise the importance of law — the rule of law — due process, judicial systems, international organizations that have to be sustained and supported to set standards and hold people accountable and serve as places of recourse for the Nadias of the world", and she urged people not to be discouraged from speaking out and standing up.

Watch the On Her Shoulders trailer here:
​