Theatre, Film and TV | Oct 15, 2019
Potted Potter wins two Best of Las Vegas Awards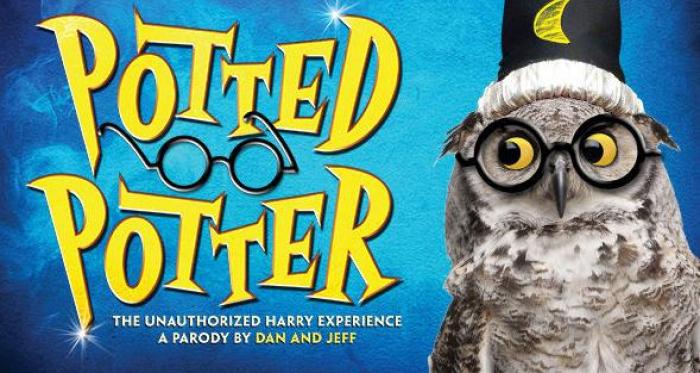 Potted Potter – The Unauthorized Harry Potter Experience – A Parody by Dan and Jeff has won two awards in the 'Best of Las Vegas' awards. The show has received Gold Award for Best New Show and Bronze Award for Best Value Show. Potted Potter has been running at Bally's Las Vegas since June 2019 following a highly successful run across various world stages for over a decade.
Daniel took to twitter to thank all of those who voted: 'As these awards are voted for by the public, we owe a huge thanks to all our audiences and fans for the support!'
The twice Olivier-nominated Potted Potter is a family-friendly Harry Potter themed show which condenses all seven Harry Potter books (and a live game of Quidditch) into 70 hilarious minutes.
Potted Potter was born in 2005 when Dan and Jeff were asked to create a five-minute street show recapping the plot of the first five Potter books, for performance to queues of fans waiting for the midnight release of the sixth book. In 2006, the show expanded into an hour-long performance in which the first six books are parodied. In 2007, under the guidance of director Richard Hurst and producer James Seabright, the show toured the U.K. and has subsequently toured across the world with great success.
It's the single funniest thing I have seen in ages. You're gonna love this show!
Toronto Star
★★★★
A fabulously funny parody. Will tickle the funny bone of every age group.
The London Daily Telegraph
★★★★

Blissfully funny, a winner in every way. This show is a crowd-pleaser.
The London Guardian
★★★★
Cleverly appeals to both ardent fans and parents.
The London Times
★★★★

Tickets for the Las Vegas show are available to buy now on the Potted Potter website.
Please see the trailer below for a taste of what you can expect:
​
Dan and Jeff have also created the Olivier-nominated Potted Panto, Potted Sherlock and Potted Pirates which have toured the world with great success. Potted Panto – which features seven classic pantomimes in eighty minutes - is returning to London this 2019 for its fifth Christmas season at Southwark playhouse.
In a madcap ride through the biggest stories and best-loved characters from the wonderful world of pantomime, our dastardly double act dash from rubbing Aladdin's lamp to roaming the golden streets of Dick Whittington's London and making sure that Cinderella gets to the ball. It's all unmissable fun, whether you're six or 106.

Tickets are on sale now from the Potted Panto website.