Translation Rights | Oct 18, 2018
The Dry and Magpie Murders triumph at Bouchercon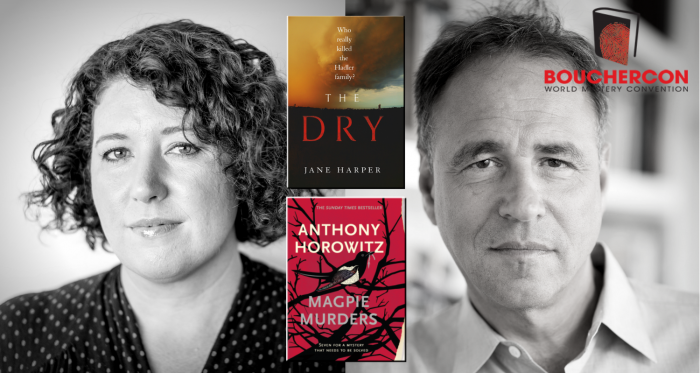 Jane Harper's first novel, The Dry, has won The Barry Award for Best First Mystery Novel 2017 and been nominated for the Macavity Award for Best First Novel at the prestigious US Crime Fiction Conference Bouchercon.
Anthony Horowitz's new murder mystery Magpie Murders was similarly highly accoladed at the Conference; it won the Macavity Award for Best Novel 2017 and was nominated for the Anthony Award and the Barry Award for Best Novel.
Harper's The Dry is a story of desperation, resolution and small-town prejudice, played out against the blistering extremes of life on the land. During a terrible drought, desperate farmer Luke Hadler turns a gun on his family and then himself. When investigator Aaron Falk returns to his hometown to probe deeper into the killings, he starts to suspect foul play, and a childhood secret he shared with Luke threatens to be unearthed.
The Dry was described by The New York Times as 'packed with sneaky moves and teasing possibilities that keep the reader guessing...a breathless page-turner'. It has previously won The British Book Awards Crime & Thriller Book of the Year 2018.
Horowitz's Magpie Murders is a smart and subversive homage to the classic 'whodunnit' crime novel, featuring a mystery within a mystery. Susan Ryeland is editing the new tale by famous fictional novelist Alan Conway, Magpie Murders, when she discovers the last three chapters are missing: while trying to find them, she becomes embroiled in a murder mystery of her own.
Magpie Murders is a Sunday Times bestseller and was described by the Observer as "… a fiendishly plotted crime novel, with a fabulous twist." The Washington Post hailed it as "sleek, fun, cunning…a complex reckoning with Christie's immense popularity, and what it says about us as readers."
The Barry Award was set up in 1997 by Deadly Pleasures Mystery Magazine in memory of Barry Gardner, a much-loved American critic and fan reviewer. The Macavity Award is named after the "mystery cat" in T.S Eliot's Old Possum's Book of Practical Cats, and is voted on by members of Mystery Readers International, the largest mystery fan/reader organisation in the world.