Books | Sep 18, 2019
The Testaments by Margaret Atwood sells 103,177 hardbacks in the UK in its first week of sale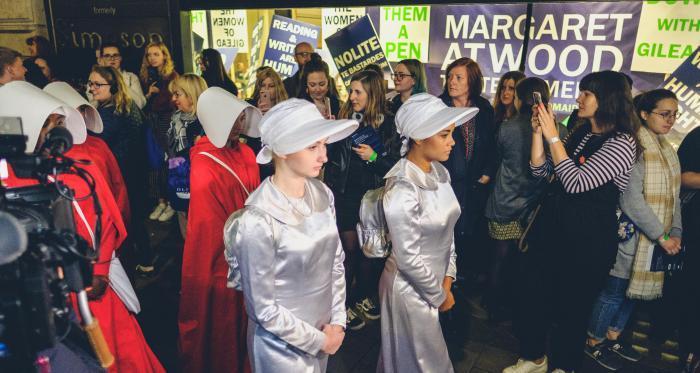 The Testaments, Margaret Atwood's long-awaited sequel to The Handmaid's Tale has topped the hardback fiction, audiobook and eBook charts in its first week of sales, following an extraordinary publication week beginning on 9th September.
Selling 103,177 copies in hardback in its first week, more than double the total of any other hardback fiction title so far in 2019, The Testaments is the biggest hardback fiction title of the year and the fifth biggest hardback fiction launch since TCM records began. The Testaments audiobook edition is the biggest week of sales ever for Penguin Random House UK. Moreover, The Handmaid's Tale has returned once again to the paperback chart as the second bestselling fiction paperback in the market (combined VINTAGE paperback editions), 34 years after its original publication in 1985.
Waterstones celebrated its biggest first day of sales of 2019 on The Testaments publication day, as crowds queued around the block of Waterstones Piccadilly on 9th September to hear Margaret Atwood read from the book at midnight. The launch continued on 10th September with a live appearance at the National Theatre. 'Margaret Atwood: Live in Cinemas' saw Margaret Atwood in conversation with broadcaster and author Samira Ahmed, and featured readings by Ann Dowd, Lily James and Sally Hawkins. The event was broadcast to more than 1,000 cinemas across the globe, including screens throughout the UK, US and Canada, with delayed screenings in Australia and New Zealand.
The Testaments also saw huge success upon publication around the world, reaching #1 in the New York Times bestseller list and #1 in Canada. The Handmaid's Tale reached #1 in the New York Times paperback bestseller list.
The Testaments is published by Penguin Random House across the English-speaking world: by Chatto & Windus/Vintage in Australia, New Zealand, South Africa and India, as well as in the UK; by McClelland & Stewart in Canada; and by Nan A. Talese/Knopf Doubleday in the US.