Books | Jul 30, 2020
The Wainwright Prize for UK Nature Writing Shortlist 2020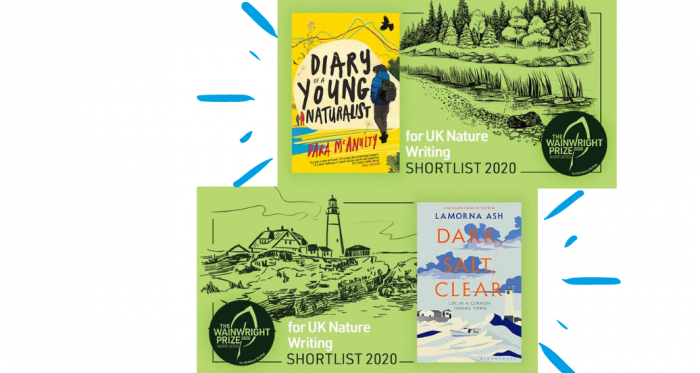 We are delighted to have two incredible authors shortlisted for The Wainwright Prize for UK Nature Writing - Lamorna Ash with Dark,Salt, Clear and Dara McAnulty with Diary of a Young Naturalist.
Now in its seventh year, The Wainwright Prize for UK Nature Writing is awarded annually to the book which most successfully inspires readers to explore the outdoors and to nurture a respect for the natural world. The book should be narrative driven with a subject that must be related to nature, the outdoors or travel writing (not guidebooks) covering Great Britain and Northern Ireland as a central theme.
Diary of a Young Naturalist (Little Toller, May 2020) is the critically acclaimed debut from 16 year old Dara McAnulty. Written in poetic prose, his diary explores his deep relationship with nature alongside campaigning work and the everyday challenges and joys of being autistic. Dara is a prolific environmental campaigner and is the youngest person ever to be shortlisted for the award.
Documenting a year 25 year old Lamorna spent in Newlyn, Cornwall, Dark, Salt, Clear (Bloomsbury, April 2020) is an evocative journey of personal discovery, immersed in the rhythms of a town and its people, and an insight into the past, present and future of our fishing communities.
Both books have previously been a BBC Radio 4 Book of the Week and, with a combined age of 41, Dara and Lamorna represent a new generation of vital authors who will teach us how to cherish our world.
The winner of the prize will be announced at a ceremony on 9th September. Huge congratulations to both Lamorna and Dara for being shortlisted.