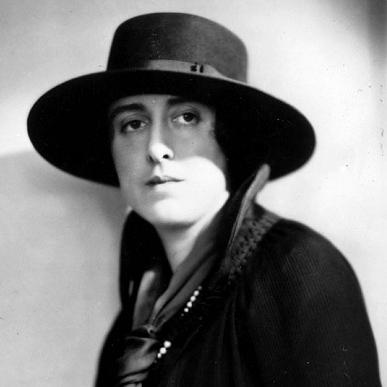 Vita Sackville West
Unseen Doll's House story by Vita Sackville-West published
An unseen work written by the celebrated novelist Vita Sackville-West for the miniature library of Queen Mary's Dolls' House is published for the first time by Royal Collection Trust.
A Note of Explanation
, originally written in Sackville-West's own hand on pages no larger than postage stamps, has remained unpublished since the 1920s. The new cloth-bound edition features art-deco-style illustrations by Kate Baylay.

Measuring just 39 x 10 mm, the original book is one of 200 volumes produced for the library of Queen Mary's Dolls' House in 1922. The house is a perfect replica of an aristocratic Edwardian residence, complete with electricity, lifts and running water. Some of the greatest authors of the age contributed works for the library, including Thomas Hardy, Rudyard Kipling and Sir Arthur Conan Doyle, but Sackville-West's story is among the few to be written exclusively for this purpose. The miniature still sits on the shelves of the Dolls' House library today at Windsor Castle.