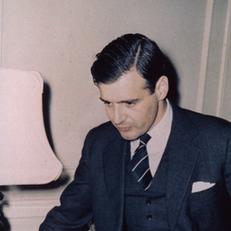 A.E.


Ellis

Novelist and playwright

1920 - 2000

A.E. Ellis was the pseudonym used by British novelist and playwright Derek Lindsay, who was born in 1920. After serving as a captain in the Second World War, he returned to England to study at the University of Oxford.
After his diagnosis of tuberculosis, Lindsay was treated for some years at a sanatorium in the French Alps, one of the last to undergo this type of therapy. His experiences there were to form a backdrop for his first and only novel, The Rack, which was published in 1958. The novel was met with high acclaim critical acclaim, with The Irish Times describing it as "quite possibly a masterpiece". Many fellow authors also praised the work, with Graham Greene writing: "there are certain books we call great for want of a better term, that rise like monuments above the cemeteries of literature: Clarissa Harlowe, Great Expectations, Ulysses. The Rack to my mind is one of this company."
Lindsay never published another novel, though he did pen two plays, Grand Manouevres (1974) and Seagull Rising (1977).