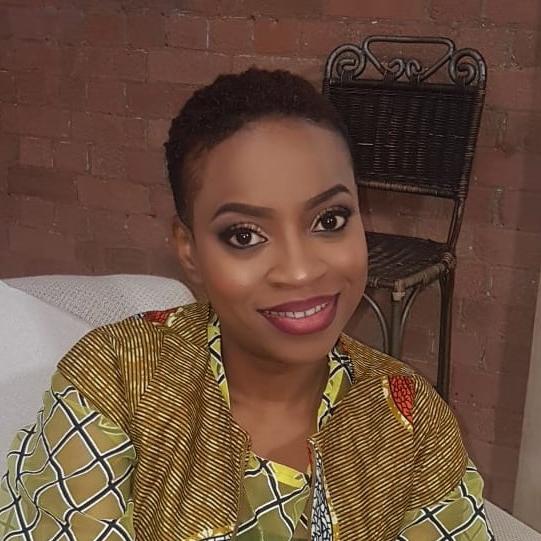 Abi Daré grew up in Lagos, Nigeria. She studied law at the University of Wolverhampton and has an M.Sc. in International Project Management from Glasgow Caledonian University and an MA ( Distinction) in Creative Writing at Birkbeck University of London.
Her first novel, The Girl with the Louding Voice was shortlisted for several awards including the Desmond Elliott Prize and The British Book Awards( Debut).
The novel was a New York Times Bestseller, A Today Show Book Club pick, a BBC Radio 4 Bookclub Pick and has been translated into well over a dozen languages. When Abi is not writing, she loves hanging out at her local cafe, giving talks, and advocating for girl education.
In 2022, Abi was appointed as Board Member for the BIC Corporate Foundation. She lives in Essex with her husband and two children.

Throughout her harrowing coming-of-age journey, told with verve and compassion, Adunni never loses the "louding voice" that makes Daré's story, and her protagonist, so unforgettable.
Tsitsi Dangarembga
The New York Times Book Review on The Girl With the Louding Voice
A stunning novel - original, beautiful and powerful. I was utterly captivated by Adunni and her mesmerising louding voice.
Rosamund Lupton
on The Girl With the Louding Voice
Daré provides a valuable reminder of all the young women around the world who are struggling to be heard and how important it is that we listen to them. A moving story of what it means to fight for the right to live the life you choose.
Kirkus
on The Girl With the Louding Voice
A vivid, chilling story founded in present-day fact
People Magazine 'Book of the Week'
on The Girl With the Louding Voice
The story told in this novel is an important one… TheGirl with the Louding Voice joins a long and fine tradition of issue-led novels that have sparked conversations resulting in social change.'
Chibundu Onuzo
The Guardian on The Girl With the Louding Voice
Captivating ... Daré's arresting prose provides a window into the lives of Nigerians or all socioeconomic levels and shows readers the beauty and humor that may be found even in the midst of harrowing experiences.
Booklist
on The Girl With the Louding Voice
2020 [is] a dazzling year for debut novelists ... This 2018 Bath Novel Award winner takes a long, hard look at modern slavery through the eyes of 14-year-old Adunni.
Vogue
on The Girl With the Louding Voice
A courageous story
The New York Times
on The Girl With the Louding Voice
Abi Daré makes a sparkling literary debut ... and marks the appearance of a strong and stylish talent.
Harper's Bazaar
on The Girl With the Louding Voice