The Girl With the Louding Voice
book
| Fiction
| Feb 2020
UK →
Sceptre
(Ed. Emma Herdman)
AN INSTANT NEW YORK TIMES BESTSELLER​
AN OBSERVER HOTTEST TIPPED DEBUT NOVELIST of 2020
A 'READ WITH JENNA' TODAY SHOW BOOK CLUB PICK
Named a Most Anticipated Book of 2020 by The New York Times, Marie Claire, BBC, Vogue, Essence, PopSugar, Daily Mail, Electric Literature, Red Magazine, Stylist, Daily Kos, Library Journal, The Every Girl and Read It Forward
"Your schooling is your voice, child. It will be speaking for you even if you didn't open your mouth to talk. It will be speaking till the day God is calling you come."
As the only daughter of a broke father, fourteen-year-old Adunni is a valuable commodity. Removed from school and sold as a third wife to an old man, Adunni's life amounts to this: four goats, two bags of rice, some chickens and a new TV. When unspeakable tragedy swiftly strikes in her new home, she is secretly sold as a domestic servant in the wealthy enclaves of Lagos, where no one will talk about the strange disappearance of her predecessor, Rebecca. No one but Adunni ...
As a yielding daughter, a subservient wife, and a powerless servant, Adunni is repeatedly told that she is nothing. But Adunni won't be silenced. She is determined to find her voice -- in a whisper, in song, in broken English -- until she can speak for herself, for the girls like Rebecca who came before, and for all the girls who will follow.
Rights
Film Rights
Available
Contact Luke Speed for more information
Jake Smith-Bosanquet manages the translation rights for The Girl With the Louding Voice
Translation Rights Sold
Bulgarian
World
Orange Books
Chinese Complex
Taiwan
Business Weekly Publications
Chinese Simple
China
Beijing Guanchen Culture Communication
Czech
World
Host (Czech Republic)
German
World
Bastei Lübbe Verlag
Italian
World
Casa Editrice Nord Srl.
Korean
World
Mobidicbooks
Macedonian
World
Matica Makedonska Publishing House
Myanmar (Burmese)
World
Alpha Books
Norwegian
World
Kagge Forlag
Portuguese
Brazil
Verus Editora
Serbian
World
Vulkan Publishing
Swedish
World
Piratforlaget
Turkish
World
Epsilon Yayincilik
Media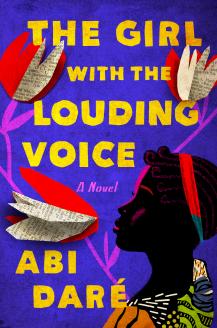 Reviews
A coming-of-age tale like none other you'll read this year, narrated by a young woman you'll never forget. Beautiful, bracing and arguably as transformative a journey for the reader as for the book's brave heroine.
Liam Callanan
Daré provides a valuable reminder of all the young women around the world who are struggling to be heard and how important it is that we listen to them. A moving story of what it means to fight for the right to live the life you choose.


Kirkus
A stunning novel - original, beautiful and powerful. I was utterly captivated by Adunni and her mesmerising louding voice.
Rosamund Lupton
Abi Dare's incredible debut packs a powerful emotional punch.
Charlotte Heathcote
Sunday Express (S Magazine)
Throughout her harrowing coming-of-age journey, told with verve and compassion, Adunni never loses the "louding voice" that makes Daré's story, and her protagonist, so unforgettable.



Tsitsi Dangarembga
The New York Times Book Review
A young girl refuses to have her goals snatched away by circumstance in this gut wrenching novel.
Essence
5 New Books To Read If You Love Toni Morrison

The Girl With the Louding Voice is the emotional tale of a young Nigerian girl who wants nothing more than to gain an education to lift herself out of her life of servitude and make a better life for herself.
Book Riot
Captivating ... Daré's arresting prose provides a window into the lives of Nigerians or all socioeconomic levels and shows readers the beauty and humor that may be found even in the midst of harrowing experiences.


Booklist
In rural Nigeria, 14-year-old Adunni has few choices in life. All she wants in an education -- something to give her a "louding voice" so people will listen to her. Forced into an arranged, brutal marriage, Adunni flees to Lagos, only to be sold into domestic slavery working for Big Madam, a super-rich fabric saleswoman. But her last house girl disappeared and Adunni vows to find out what happened. This is a compelling, captivating and unforgettable debut.
Mirror
A woefully all-too-true story, but the vivid telling of it is a joy.
Saga
(on the audiobook)
The Girl With the Louding Voice is a character for the ages. Adunni is a girl who narrates her own suffering with levity, who paints depth and texture and beauty into her Nigerian homeland, who tenderly cultivates her own humanity even while everything around her seeks to thwart it. She is an ambassador for girls everywhere. She is important, funny, brave, and enduring. Abi Daré has written an unforgettable novel, by the strength of her own louding voice.


Jeanine Cummins
Adunni's humour and fierce determination to change her destiny shine through this remarkable debut novel.
i '10 Best Books Written by Women from Bernadine Evaristo to Sally Rooney''
Abi Daré's debut novel The Girl With the Louding Voice is a beautifully rendered, achingly real portrait of Adunni, a young woman finding her strength and shaping her destiny in modern day Nigeria. Adunni's voice weaves and dances its way across the pages with a rhythm that captivated me, astonished me and, more than once, broke my heart. Brava to Daré for bringing this compelling characters out of the shadows and into our lives.


Tara Conklin
A bold new storyteller ... Abi Daré's fearless debut is a celebration of girls who dare to dream and those who help them unfurl their wings so that they might soar.
Imbolo Mbue
A courageous story
The New York Times
Poetic and beautiful, harrowing and humorous, this is a delicate yet fierce debut novel that urges us to find joy even in the most hopeless of situations

The Irish Times
2020 [is] a dazzling year for debut novelists ... This 2018 Bath Novel Award winner takes a long, hard look at modern slavery through the eyes of 14-year-old Adunni.
Vogue
A true original, this will open your eyes
Cosmopolitan
The story of one remarkable girl's quest to overcome tragedy and oppression, and to speak for herself
Daily Mail
Compulsive reading
Irish Tatler
A vivid, chilling story founded in present-day fact
People Magazine 'Book of the Week'
[A] bravely determined heroine
Sunday Times
Gives an eloquent voice to the victims of modern slavery
Independent
A story of courage that will win over your heart.
Stylist
A powerful debut novel ... The writing is addictive and deeply evocative. A beautiful debut from a talented author.
The Herald
Like a modern-day Jane Eyre, Adunni is an easy character to root for.
Guardian - The Guide
The Girl with the Louding Voice by Abi Daré stuck in our minds for days after we read it. It's a powerful, thought-provoking novel - and eminently readable at that.


Emma Lee-Potter
The Independent
A powerful debut novel with an almighty, and thoroughly deserved, buzz around it.

...Adunni is determined and spirited, her louding voice will not be silenced, as she fights for her right to an education and for other girls like her.



Sarra Manning
Red Online
The story told in this novel is an important one… The
Girl with the Louding Voice joins a long and fine tradition of issue-led novels that have sparked conversations resulting in social change.'
Chibundu Onuzo
The Guardian
Abi Daré makes a sparkling literary debut ... and marks the appearance of a strong and stylish talent.


Harper's Bazaar
... this ultimately uplifting debut novel shines a penetrating light on the barbaric practices of child labour and child marriage.
Mail on Sunday
I have just finished The Girl With the Louding Voice and I highly recommend it to anyone who hasn't already read it. It is such a vibrant, tender, beautiful novel and the heroine is this 14-year-old girl who has such a feisty spirit that I just fell in love with her, and fell in love with the book.
Elizabeth Day