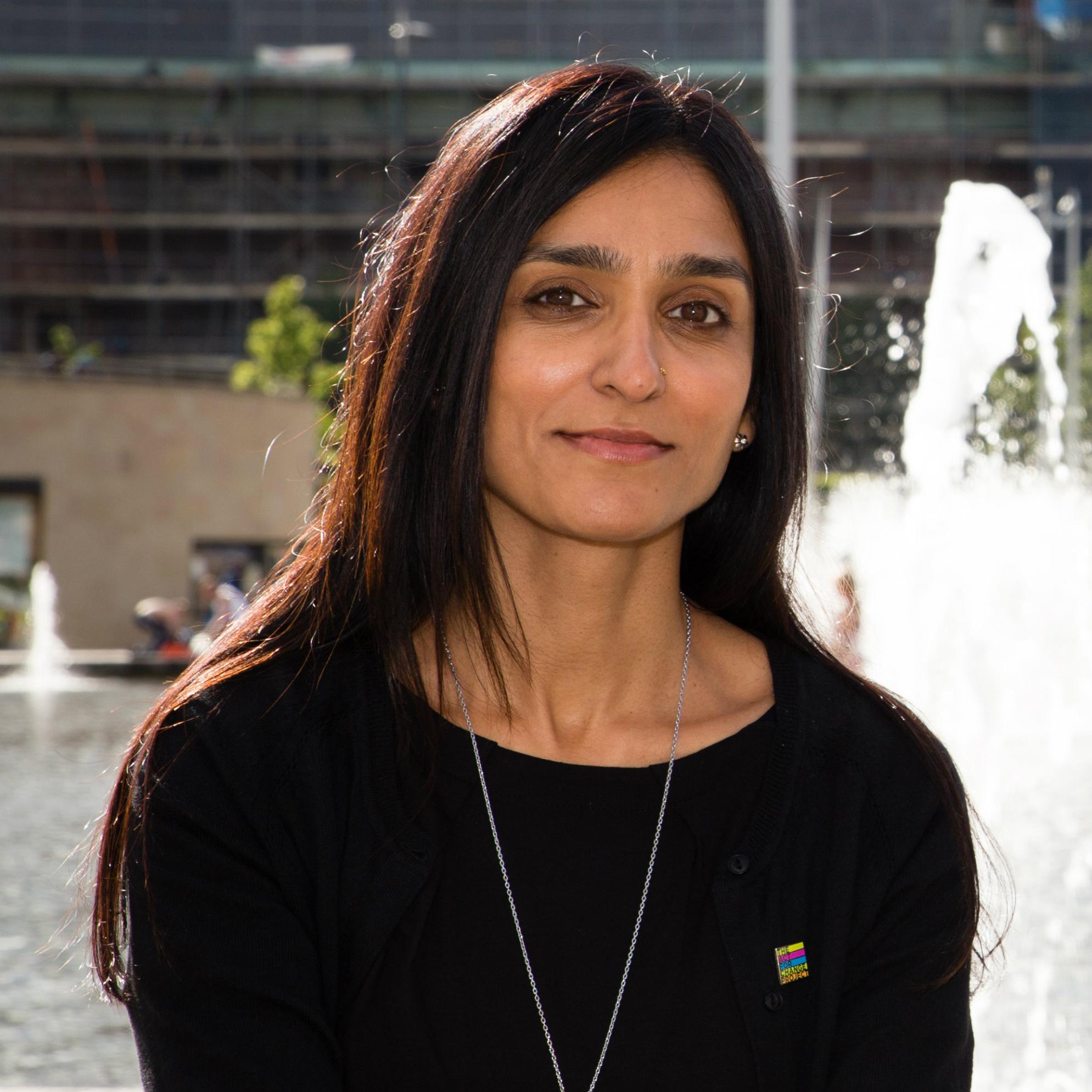 Aisha


Khan

Playwright, Dramaturg, Writer for Radio and Director for Theatre



Aisha Khan is a writer, director, dramaturg and Co-Artistic Director of Freedom Studios.
Aisha's directing work includes The Abyss by Ghiath Al-Mhitawi (Royal Court/Edinburgh International Festival), Spirits by Gemma Bedeau and Lump by Kieran Launder (Freedom Studios), When We Were Brothers by Ben Tagoe (Freedom Studios), When I Say I Love You by Pete Bowker (SL Shorts), Beep (writer and dir, Northern Bullits), 15 Minutes Live (co-produced with Slung Low) and Wheatish (Spark Lab Productions/Radio 4).
Aisha's writing work includes No Man's Land, (Theatre An Der Parkau, Berlin/Leeds Playhouse), The Market (Leeds Playhouse), The Johnny Eck and Dave Toole Show (co writer with Mark Catley, Slung Low, dir Alan Lane), The Bee Mask (dir Sam Wood, Northern Bullits) and Moonshed (dir, Sarah Frankcom, Royal Exchange Theatre). For BBC Radio 4 work includes Road Trip, Driftwood Heart, Paper Flowers and Durkopianap D (dir, Alan Lane, 15 Minute Live, Slung Low).

Aisha Khan's production is deftly directed and the performances are beautifully judged
The Stage
on When We Were Brothers
the piece escapes the confines of traditional theatre, stripping it back to reveal the rawness of the subject matter and the relationships
The Reviews Hub
on When We Were Brothers
the piece is deftly directed by Aisha Khan who uses the intimacy of the unconventional space with great skill
The Yorkshire Post
on When We Were Brothers
Theatre
Writer
Starring
Stefan Faupel
Paul Holowaty
Amy McAllister
Danielle Schneider
Commission by West Yorkshire Playhouse and Theatre an der Parkau, Berlin
Director
Aisha Khan & Sam Wood
Short play as part of Six Shooter
Play about a man in a call centre who begins to plan his suicide
Commissioned by West Yorkshire Playhouse
Play set in the future where the Earth has no moon
Royal Exchange Theatre, Manchester
Commissioned by M6 Theatre Company, rehearsed reading at West Yorkshire Playhouse in 2002
Winner of the Lancashire Young Writer's Festival
Drama set in Leeds in the 1960s, commissioned as part of 15 Minute Live
Slung Low / I Love West Leeds Festival
Director
Spark Lab Productions / Radio 4
Co-produced with Slung Low
Producer
Mark Catley & Lisa Holdsworth
Starring
Jayson Benovichi-Dicken
Shireen Farkhoy
Mani Liaqat
Short play about a young woman who wants a Bollywood hero and the young man who sets out to prove he is no Bollywood dummy
Writer
D. Grace & B. Whalley
Rehearsed reading
Northern Bullits, Bradford in the Mill
Radio
Writer
Starring
Afshan Azad
Vincent Ebrahim
Adem Kanso
Parvez Qadir
Nasser takes his daughter Hana and her children on a surprise holiday
Production Company BBC
Broadcaster
BBC Radio 4
Broadcaster
BBC Asian Network
Director
Katherine Beacon
Starring
Vincent Ebrahim
Rez Kempton
Rina Mahoney
Eileen O'Brien
Play about love and loss when Anna and Hanif meet by chance on the beach
Starring
Rez Kempton
Archie Panjabi
Emma Cunnifre
Sanjit Sii
Bhasker Patel
When Zair returns to Pakistan with his new English fiancee, tension mounts between her and his first wife