book
| Fiction
| Jan 2022
UK & Comm excluding Canada →
Bonnier Publishing
(Ed. Carla Hutchinson)
US & Canada →
Clarion Books
(Ed. Emilia Rhodes)
In this epic YA fantasy debut, magic, a prized resource, is the only thing between peace and war. When magic runs out, four estranged royal siblings must find a new source before their country is swallowed by invading forces. The first in an Indian-inspired duology that's perfect for fans of There Will Come a Darkness, The Gilded Wolves, and We Hunt the Flame.

Four siblings. A country in ruin. One quest to save them all.

Vira is desperate to get out of her mother's shadow and establish her legacy as a revered queen of Ashoka. But with the country's only quarry running out of magic–a precious resource that has kept Ashoka safe from conflict–she can barely protect her citizens from the looming threat of war. And if her enemies discover this, they'll stop at nothing to seize the last of the magic.

Vira's only hope is to find a mysterious object of legend: the Ivory Key, rumored to unlock a new source of magic. But in order to infiltrate enemy territory and retrieve it, she must reunite with her siblings, torn apart by the different paths their lives have taken. Each of them has something to gain from finding the Ivory Key–and even more to lose if they fail. Ronak plans to sell it to the highest bidder in exchange for escape from his impending political marriage. Kaleb, falsely accused of assassinating the former maharani needs it to clear his name. And Riya, a runaway who cut all family ties, wants the Key to prove her loyalty to the rebels who want to strip the nobility of its power.

They must work together to survive the treacherous journey. But with each sibling harboring secrets and their own agendas, the very thing that brought them together could tear apart their family–and their world–for good.

Rights
Roxane Edouard manages the translation rights for The Ivory Key
Film Rights
Available
Contact Hillary Jacobson for more information
Audio Rights
Available
The audio rights are handled by HMH Books for Young Readers.
Translation Rights Sold
Polish
World
Papierowy Ksiezyc
Media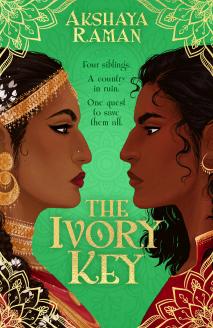 Reviews
Raman's Indian-inspired fantasy debut is a dream...
Booklist (starred review)
A secret society, a hunt for lost magic, and four siblings who are each hiding their own secrets…The Ivory Key is everything I love about epic, character-driven fantasy, brimming with lushly realized settings and deliciously slow-burn romances. An immersive, unmissable debut.

Katy Rose Pool, author of There Will Come a Darkness
The Ivory Key is the epic YA sibling fantasy story I've been waiting for. A rich world, a satisfying slow burn romance and a main character determined to forge her own path make this series a must-read.
Adrienne Young, New York Times bestselling author of the Fable Duology
A rollicking adventure of royal family drama, treasure hunts, and hidden histories. I loved it

S.A Chakraborty, author of the best-selling Daevabad Trilogy
The Ivory Key is a twisty, dazzling adventure that I absolutely fell in love with.
Tasha Suri, author of The Books of Ambha Duology
Set in a richly realized world ripe with magic, The Ivory Key is a dazzling new addition to young adult fantasy. Featuring a broken family fumbling toward healing and a perilous expedition into the ruins of a history that never should have been lost, this is a riveting adventure by a talent to watch.

Traci Chee, New York Times bestseller and National Book Award Finalist for WE ARE NOT FREE
A vibrant fantasy world, four estranged siblings, and an action-packed quest--The Ivory Key is a richly woven adventure with a tender heart. I was completely enamored

Amanda Foody
Raman has crafted a world bursting with color and texture and kinetic energy, and a story of rebuilding a fractured family that will stick with you long after 'The End.'

Sara Holland
Everything about The Ivory Key is vivacious—from the enrapturing setting of opulent forts and forbidden ruins to the larger-than-life characters who will ensnare your heart with their perfect balance of heroism and faults. Brace yourself for the single best portrayal of fraught sibling relationships you will ever read coupled with a complex, multi-faceted plot that unfolds as shockingly as the twisted puzzles the characters face. You will fall into this book and never want to come out

Sara Raasch, New York Times bestselling author of the SNOW LIKE ASHES
Raman's immersive, enchanting world is rich in Indian cultural influences... [Raman] skilfully weaves together political intrigue, complex sibling relationships, and magic.

Kirkus Reviews
The Ivory Key has everything I want most in fantasy. It has a world so vivid and developed, I could taste the food and feel the magic weapons in my hand. It has flawed, developed characters I rooted for and cried beside. And it has a quest steeped in lore and mystery. Akshaya Raman is a new master of the genre to watch for.

Susan Dennard, New York Times Bestselling Author of the Witchlands series