Winner of the Women in Film and Television Script Award, 2004
film


(

Feature

)

Producer

Caroline Wood

Director

Shona Auerbach

Starring
Emily Mortimor
Gerard Butler
Jack McElhone
Sharon Small
Katy Murphy

Distributor Miramax Production Company Pathe Pictures
Lizzie Morrison, her opinionated, chain-smoking mother Nell, and nine-year-old deaf son Frankie frequently move to keep one step ahead of her abusive ex-husband and his family. Newly relocated in the Scottish town of Greenock, she accepts a job at the local fish and chips shop owned by a friendly woman named Marie, and enrolls Frankie in school.

Through a Glasgow post office box, Frankie maintains a regular correspondence with someone he believes to be his father Davey, who allegedly is a merchant seaman working on the HMS Accra. In reality, the letters he receives are written by his mother, who prefers maintaining this charade to telling her son the reason she fled her marriage.

In a panic when the boat docks at Dreenock port, Lizzie concocts a scheme to hire a man to impersonate Davey. When her effort to find someone at the local pub fails, she enlists Marie's assistance. Marie arranges for her to meet an acquaintance of hers who coincidentally is passing through town at the same time the Accra will be in port. He agrees to spend a day with Frankie in exchange for the meager payment Lizzie can offer him. When he arrives at their home to pick up the boy, he brings him a book about marine life, one of Frankie's passions, and a bond is forged immediately.

Media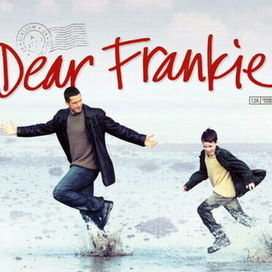 Reviews
Sweet and smart, it's a small moment in a film that doesn't chase after big ones and is all the more likeable for it.
Matthew Leyland
BBC website