The Book of Bunny Suicides
This is dark humour at its best – a collection of hilarious and outrageous cartoons which will appeal to anyone in touch with their evil side.

Rights
Melissa Pimentel manages the translation rights for The Book of Bunny Suicides
Translation Rights Sold
Chinese Simple
Mainland China
Thinkingdom Media Group
Media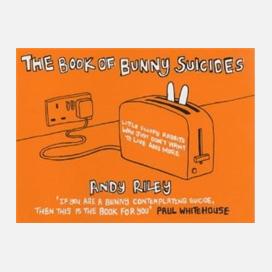 Reviews
If you are a bunny contemplating suicide, then this is the book for you.
Paul Whitehouse
At last, a British Gary Larson. But without the other animals.
David Baddiel
Brilliantly researched - one of the most important books of the year.
Hugh Grant
It's the funniest, bunniest book I've ever read!
Elton John
Inspired, ingenious...fiendishly funny.
Ardal O'Hanlon
The most moving account of rabbit related depression I can recall reading. It will stay with me in my toilet for a long, long time. The only time the phrase "not a happy bunny" has made me laugh.
Adam Buxton (The Adam & Joe Show)
Watership Down for the deeply sick. Very imaginative, very funny, very worrying if you're the author's mother.
Richard Curtis
A delightful illustrated volume of creative self-destruction.
CNN.com
What kind of sick mind finds humour in such cruelty?
The League of Gentlemen