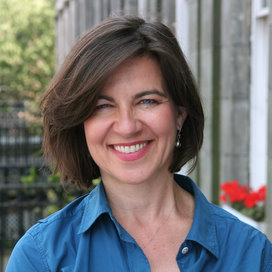 Annie


Griffin

Playwright, comedy writer, director and producer for television and film
Annie Griffin is a writer and director whose comedy talent was behind Channel 4's smash hit show, The Book Group, for which she won an Indy Comedy Award and was nominated for two British Comedy Awards. She occasionally appears in her own shows, and has accompanied her stage productions across the globe. Annie also wrote on Fresh Meat amongst others.
Many of her productions have appeared at the Edinburgh Fringe Festival, her experiences of which were immortalised in her comedy feature film, Festival, which earned her the British Comedy Award for Best Comedy Film at the British Comedy Awards 2005 and the Best Debut Director Award at the British Independent Film Awards.
Annie has recently directed an episode of the new HBO comedy series, Avenue 5 as well as two episodes of season 5 of Outlander on Starz and Amazon Prime, Wild Bill for ITV and Women On The Verge for RTE One. Annie is currently working on season 2 of Avenue 5.
Film
Writer & Director
Out of Reach
Winner: Bronze Dragon, Krakow Film Festival 1995
1 x 24'
Short
16mm, 26' documentary, Arts Council/Channel 4 Experimental scheme
Was She There
Winner of Best International Short Film at the Cork Film Festival 1996
Short
20' drama documentary, made as part of the British Film Institute New Directors Scheme
Starring
Chris Lowe
Neil Tennant
Documentary about the Pet Shop Boys at the Savoy Theatre as well as the promo for the Pet Shop Boys' single Somewhere
Writer
Feature based on the Spanish myth, Duende
Theatre
Writer
A show about acting for four actors and a cameraman
Starring
Annie Griffin
Solo performance at the Royal Academy of Art
Starring
Annie Griffin
Franck Loiret
A play about a bank manager and his secretary
Starring
Kay Hunter
Leah Hausman
Nicolas Bloomfield
Play created in response to the Richard Strauss opera Ariadne auf Naxos
Melodrama based on the novel by Mary Braddon
Collaborative piece based on the ballet Giselle
Starring
Annie Griffin
One woman show about country and western music
Starring
Annie Griffin
One woman show about pirates
Writer & Director
Starring
Annie Griffin
Mixed media show produced at London's South Bank, at the Time Festival (Ghent) and at the Royal Court, London (1995); and at the Galway Festival, Ireland (1996)
Starring
Alison Edgar
One woman show about the Shakers
Radio
Writer & Director
Starring
Zawe Ashton
Steve Oram
Luisa Omielan
Trevor Laird
Tony Law
Comedy thriller about a stealthy tech start up company
Production Company Pirate Productions
Broadcaster
BBC Radio 3