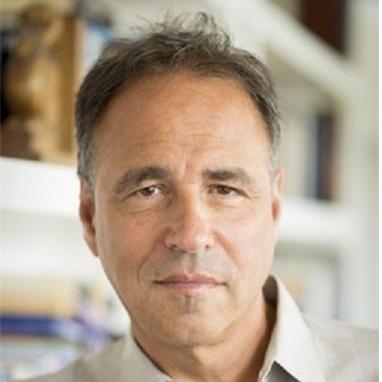 Anthony Horowitz is one of the most prolific and successful writers working in the UK – and is unique for working across so many media. Anthony is a born polymath, juggling writing books, TV series, films, plays and journalism.
Anthony has written over 40 books including the bestselling teen spy series Alex Rider, which is estimated to have sold 19 million copies worldwide and was adapted into the movie Stormbreaker in 2006. Anthony is also an acclaimed writer for adults and was commissioned by the Conan Doyle Estate and Orion Books to write a new Sherlock Holmes novel. The House of Silk was published in November 2011, and was internationally lauded as the top title of the autumn, selling in more than 35 countries around the world. The sequel, Moriarty, was published by Orion in October 2014.

Anthony wrote a new James Bond novel, Trigger Mortis, which included original material by Ian Fleming and was widely acclaimed on its release in September 2015. Anthony has published further Bond novels since.

Anthony is responsible for creating and writing some of the UK's most beloved and successful television series, producing the first seven episodes (and the title) of Midsomer Murders. He is the writer and creator of award-winning drama series Foyle's War, which was the Winner of the Lew Grade Audience award for BAFTA. DCS Foyle was voted the nation's favourite detective in 2011. Anthony has also written other original complex dramas for ITV, particularly thrillers. Collision, a major five part "state of the nation" piece, was transmitted on ITV 1 in November 2009 to seven million viewers a night. He followed this with the equally successful legal thriller Injustice, also for ITV 1, transmitted in June 2011. Foyle's War returned in March 2013 as a Cold War thriller and was greeted with such critical acclaim and demands for more that he is now working on another new series.

Anthony recently joined the board of the Old Vic. He regularly contributes to a wide variety of national newspapers and magazines on subjects ranging from politics to education. He has been a patron to East Anglia Children's Hospices and the anti-bullying charity, Kidscape, since 2008. Anthony was awarded an OBE for his services to literature in January 2014.