book
| Non-Fiction
| 2010
UK & Comm →
Orion Publishing Group
(Ed. Alan Samson)
The subtitle of this wonderful memoir declares its contents: this is 'my life with Harold Pinter', not Lady Antonia Fraser's complete life, and certainly not his. In essence, it is a love story and as with many love stories, the beginning and the end, the first light and the twilight, are dealt with more fully than the high noon in between. The result is a marvellously insightful testimony to modern literature's most celebrated marriage, between the greatest playwright of the age and a beautiful and famous prize-winning biographer.

Must You Go? is based partly on Antonia Fraser's own diaries, which she has kept since October 1968 when she suffered from withdrawal symptoms after finishing her first historical biography, Mary Queen of Scots. Antonia Fraser has also used her own recollections, both immediate reactions (she always writes her Diary the next morning, unless otherwise noted) and memories. She has quoted Pinter where he told her things about his past, once again noting the source, and has occasionally quoted his friends talking to her on the same subject. Intriguingly her Diaries always pay special attention to any green shoots where Pinter's writing is concerned, perhaps a consequence of a biographer living with a creative artist and observing the process first hand.

Harold Pinter and Antonia Fraser lived together from August 1975 until his death thirty-three years later on Christmas Eve 2008. 'O! call back yesterday, bid time return,' cries one of his courtiers to Richard II. This is Antonia Fraser's uniquely compelling way of doing so.
Rights
Audio Rights
Available
The audio rights are handled by Alice Lutyens.
Liz Dennis manages the translation rights for Must You Go?
Translation Rights Sold
French
World
Editions Baker Street
Media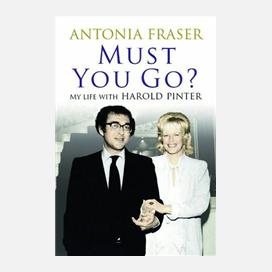 Reviews
'It is neither autobiography nor biography but a love story, romantic, poignant and very funny, illuminating her husband's character and creativity'


Valerie Groves
The Times
'a wonderfully full description of the deep pleasures and comforts of married love'


Sam Leith
Spectator
'Brave but often funny in its account of a scandal that became a destiny, it teaches modern lovers a lesson that many will need to learn: how to say the long goodbye.'
Boyd Tonkin
Indepedent
Full Review
'...her stylish new memoir... is both affectionate and elegiac...Fraser's tribute to the man she continues to miss is a wonderfully nuanced combination of diary notation and current reminiscence. It is warm, touching, at times humorous, and always intelligently tactful.'
Nancy Schiefer
London Free Press