Magic Charly #1: The Apprentice
book
| Fiction
| Jun 2019
World French →
Editions Gallimard
(Ed. Jean-Philippe Arrou Vignod)
Magic Charly #1 : L'Apprenti

Animated TV rights optioned by 2 Minutes​
Winner of the Prix Ado Rennes Ille-et-Vilaine 2021
Winner of the Prix Crok'Livres 2021
Shortlisted for the Prix Histoire d'Ados 2021
Shortlisted for the Grand Prix du Journal de Mickey 2021
Shortlisted for the Prix Libr'à Nous in the children's category
Shortlisted for the Booktubers App Literary Prize (PLIB)
Shortlisted for the Prix Guilli 2019
Harry Potter meets Terry Pratchett with a hint of Hayao Miyazaki in L'Apprenti (The Apprentice) the first title of the French YA fantasy series Magic Charly
Charly Vernier is your average teenager… if you ignore the fact that his high school is an old match-making factory, that his eccentric mother is the principal and that his cat might be a bit more perceptive (although not necessarily more likeable) than his peers.
Seven years ago, his grandmother Lady Mélisse disappeared without a word. Though Charly has very little recollection of time spent with her, he knows they were close and that he may have played a part in her sudden flight. Brought home by a stranger who seems to hold her in the highest regard, Lady Mélisse is very diminished and has lost nearly all her memories. Thanks to a message he finds in her luggage, Charly slowly discovers that a world of magic exists alongside ours. With the help of a master (a very reluctant Master Lin) and a friend/rival of sorts (the brilliant Sapotille), Charly embarks on a quest to find out what happened to his grandmother.
He will discover her link to a mysterious figure, The Reaper, who no longer complies with the Academy of Magic. Charly realises that this far from perfect world of magic is, in fact, on the brink of a civil war, torn apart by the internal factions vying for control over the most rare and precious resources of all: Magic.

Rights
Roxane Edouard manages the translation rights for Magic Charly #1: The Apprentice
Audio Rights
Available
The audio rights are handled by Editions Gallimard.
Translation Rights Sold
Dutch
World
Uitgeverij Luitingh-Sijthoff
Hungarian
World
Galactica
Russian
World
Eksmo Publishers
Media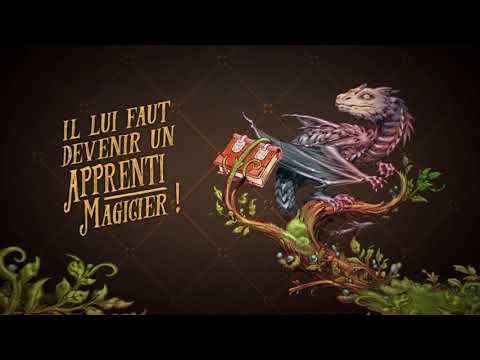 Reviews
Exaltant!

L'Amour des Livres
La suite, et vite!

Le Rose et Le Noir
Une aventure pleine d'humour, de sorts mais aussi de dangers.

Page des Libraires
Verdict unanime : ce livre nous a fait procuré un plaisir de lecture équivalent à l'émerveillement de la découverte des Harry Potter – et je pèse mes mots !

Ile aux Tresors
Impossible de ne pas songer à Harry Potter en lisant ce roman

Le Monde des Ados