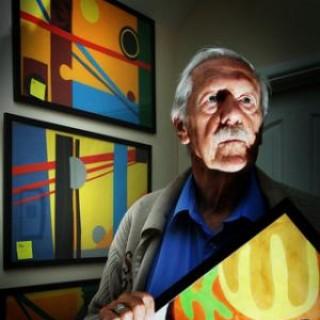 Brian


Aldiss

Novelist, non-fiction writer, short story writer, essayist, poet, playwright and literary critic
1925-2017

Brian Aldiss OBE, was a fiction and science fiction writer, poet, playwright, critic, memoirist and artist. He was born in Norfolk in 1925. After leaving the army, Brian worked as a bookseller, providing the setting for his first book, The Brightfount Diaries (1955).

His first published science fiction work was the story 'Criminal Record', which appeared in Science Fantasy in 1954. Faber encouraged him to pursue his enthusiasm for SF and published Space, Time and Nathaniel (1957). He went on to write nearly 100 books and over 300 short stories, including the acclaimed novels Hothouse, Non-stop and the Helliconia trilogy, all regarded as modern classics.

The winner of two Hugo Awards, one Nebula Award, and one John W. Campbell Memorial Award, Brian was inducted by the Science Fiction Hall of Fame in 2004. In 2010, The Hand-Reared Boy (1970) was longlisted for the Lost Booker Prize.

Several of Brian's books, including Frankenstein Unbound, have been adapted for the cinema and his story 'Supertoys Last All Summer Long' was adapted and released as the film AI: Artificial Intelligence in 2001, directed by Steven Spielberg.

Besides his own writing, Brian edited numerous anthologies of science fiction and fantasy stories and the magazine SF Horizons.

Brian was a vice-president of the international H. G. Wells Society and in 2000 was given the Damon Knight Memorial Grand Master Award by the Science Fiction Writers of America (SFWA). He was awarded the OBE for services to literature in 200, and received honourary awards from Reading and Liverpool Universities.
He spent much of his life in Oxford, where his bookselling career began in 1947 and where he died in 2017.