book
| Fiction
| Oct 2015
World English →
Quercus
(Ed. Richard Arcus)
The past and present of Lieutenant Jonathan Stride's life collide in this intense, twist-filled thriller from Brian Freeman, whose novel Spilled Blood won the award for Best Hardcover Novel in the International Thriller Awards.

If there's one ghost haunting Stride's lover, Serena Dial, it's a woman from his past - Stride's wife, Cindy, who died of cancer eight years ago. When Serena recovers a gun used in a brutal murder on a Duluth street, she has no idea that she has stumbled onto a case that goes back to the last year of Cindy Stride's life.
Back then, Cindy and Stride were on opposite sides of a murder investigation. Janine Snow - Cindy's best friend - was the prime suspect in the killing of her husband. Despite Cindy's protests that her friend was innocent, Stride built an airtight case that put Janine behind bars.
The only loose end? He never found the murder weapon.
Stride refuses to doubt Janine's guilt — until years later, when Serena discovers a gun next to a woman's body outside a Duluth bar. It turns out to be the gun that killed Janine Snow's husband. For Stride, two unrelated cases years apart suddenly have a mysterious connection. As he tries to break open a human trafficking ring that is targeting women in the Duluth port, he must question whether he made a terrible mistake years earlier.
Did Stride put an innocent woman in prison?
Rights
Audio Rights
Available
The audio rights are handled by Quercus.
Film Rights
Available
Contact Deborah Schneider for more information
Katie McGowan manages the translation rights for Goodbye to the Dead
Translation Rights Sold
Italian
World
Edizioni Piemme
Media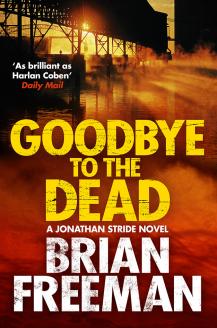 Reviews
Freeman skillfully weaves together diverse story lines, from the old murder to a sex-slavery operation, with twists that build suspense, in this fine, character-driven addition to a strong series.

Michele Leber
Starred Review, Booklist
Full Review