On a rainy June morning, tens of thousands of people crowd into Duluth, Minnesota, for the city's biggest annual event: the Duluth Marathon. Exhausted runners push to reach the finish line, and the huge crowd lines the streets to cheer them on. Then, in a terrifying echo of the Boston bombing, an explosion rocks the race course, leaving dozens dead or injured.

Within minutes, police detectives Jonathan Stride, Serena Dial, and Maggie Bei are at work with the FBI to find the terrorists behind the tragedy. As social media feeds a flood of rumors and misinformation, one spectator remembers an altercation with a young man with a backpack near the bomb site. He spots a Muslim man in a tourist's photo of the event and is certain that this was the man who bumped into him in the crowd – but the man's backpack is missing.

When he tweets the photo to the public, Khan Rashid becomes the most wanted man in the city, and soon the hunt is on to find him. Dead or alive.

As Stride, Serena, and Maggie rush to catch a killer before more innocent people die, they discover that the truth behind the Duluth bombing is more complex than anyone realizes. But truth may not matter when the city is caught up in a firestorm of hatred and revenge.


Rights
Katie McGowan manages the translation rights for Marathon
Translation Rights Sold
Italian
World
Edizioni Piemme
Spanish
World
Circulo De Lectores
Media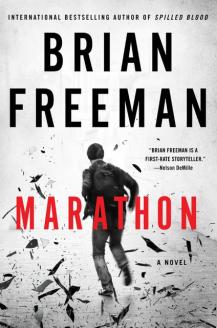 Reviews
Freeman delves into this community being pulled every which way extremely well, and delivers quite a shock before this fantastic psychological thriller comes to an end.

Suspense Magazine
Once you start you will sprint through the pages . . . MARATHON is a fascinating, captivating and involving thriller/procedural.
Great Mysteries and Thrillers
Brian Freeman is one of the names on my must-read list.
Bookreporter
Freeman builds on his torn-from-the-headlines story with a surprising resolution and a healing conclusion.
Booklist
Brian Freeman has his finger on the pulse of technology. His use of social media in Marathon feels so real that readers may find themselves searching the hashtags to make sure this is really fiction.
BOLO Books
A fast-paced and riveting drama that I could not put down until the last sentence was read . . . the best book in this grippingly thrilling series.
Dru Ann's Book Musing
Thriller Award-winner Freeman uses the 2013 Boston Marathon bombing as a template for his gripping eighth Jonathan Stride novel... Besides being a chilling reminder of what can happen in our divided society, the book is a fast, compelling read.
Publishers Weekly
This book will undoubtedly hit on several nerves for fans of well-written, tight, timely thrillers. Brian Freeman had previously cemented himself as strong contender for being one of the top writers in the genre today. The concept of terrorism is a horror that scares more than most contemporary tropes but should be taken head on. Freeman's Marathon is a firecracker that doesn't exploit the headlines as much blows them apart and delves into the topics that really matter - all within a story that never lets up. It does, however, let the novel breathe, and feel.

Cemetery Dance
With strong characters and a propulsive plot, this thriller races to a breathless finish before truth becomes collateral damage.

Star Tribune
Brian Freeman's excellent police thriller Marathon is so tragically timely, as we're constantly blasted with heartrending news of terrorist atrocities around the world. The novel - and what's been happening - made me think of Mahatma Gandhi's well known words, 'An eye for an eye and the whole world is blind' as Freeman's story explores cycles of violence and horrific damage incited by hate-mongering tweets.

BookLoons