A lot can happen in a year - and Evie, Cara and Olivia are about to find out just how much...
Evie is a hopeless romantic who's never had a chance to do her own thing, and deep down she knows that marrying Simon isn't going to help.
Her sister Cara's a walking disaster when it comes to relationships, and she's not much better in the workplace either.
And her best friend Olivia can't quite bring herself to admit that she's married to the wrong man - after all, what would she do without him?
When they go home for Christmas, Evie's father announces that he's getting remarried. That shouldn't change anything - but then they don't know who they're going to meet at the wedding...
Rights
Audio Rights
Available
The audio rights are handled by Alice Lutyens.
Melissa Pimentel manages the translation rights for Never Too Late
Film Rights
Available
Contact Lily Williams for more information
Media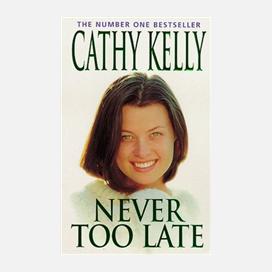 Reviews
Fondness for cliche is offset by the liveliness of Kelly's characterisation and the humour with which she describes her trio of lovelorn females
The Times
Entertaining tale of love, lust and relationships
Bookview Ireland
New bestseller… brimfull of drama and emotional crises
Books Ireland