book
| Fiction
| 2004
World →
Shaye Areheart Books
For ten summers, the Seton family — all three generations — met at their country home in New Hampshire, to spend a week together playing tennis, badminton, and golf, and savoring gin and tonics on the wraparound porch to celebrate the end of the season. In the eleventh summer, everything changed. A hunting rifle with a single cartridge left in the chamber wound up in exactly the wrong hands at exactly the wrong time, and lead to a nightmarish accident that put to the test the values that unite the family — and the convictions that just may pull it apart.

Rich with unforgettable characters, Before You Know Kindness is first and foremost a family saga. It's the tale of three generations of women — and the dysfunctional men in their lives — and the strange and unexpected places where we find love.
Rights
Claire Nozieres manages the translation rights for Before You Know Kindness
Translation Rights Sold
Slovene
World
Zalozba Meander
Media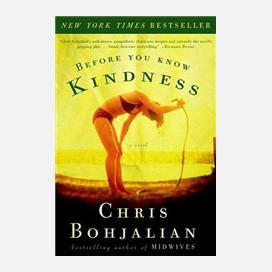 Reviews
Gunfire and its aftermath force the survivors to confront a surprisingly complicated question: How best to live? . . . Before You Know Kindness is messier, funnier and, I think, better (than Midwives).
Claire Dederer
The New York Times Book Review
Striking. . .masterly
William H. Pritchard
The Boston Globe
Full Review
A modern, compelling drama . . . Bohjalian beautifully captures those dizzying moments that follow a tragedy, when disbelief and horror give way to an attempt to understand what has happened
Patricia Conover
San Francisco Chronicle
Full Review
A penetrating, often wry and witty examination of ideals, marriage, fatherhood and the family ties that can bind, burn or bless us
Carole Goldberg
The Hartford Courant
Full Review
Cleverly ironic . . . an irresistible read
The Washington Post
Full Review
Extraordinary . . . there's a lot going on
The Minneapolis Star Tribune
Full Review
a masterful work, one that rewrites the rules and delivers a satisfying narrative in the process
Time Out New York
Full Review
A dark psychological dance of family estrangements, lies and self-righteousness . . . Plenty of finely wrought characters and thought-provoking personal and political drama.
The Seattle Times
Elegant, refined . . . A triumph
Booklist
Nifty . . . Bohjalian has built a rich and complex family drama around a knotty, unanswerable set of questions
Entertainment Weekly
(A) many-faceted satire . . . Bohjalian excels at getting inside each character's head with shifts of diction and perspective . . . his skillful storytelling will engage readers
Publisher's Weekly