Close Your Eyes, Hold Hands
book
| Fiction
| Jul 2014
US →
Doubleday
(Ed. Jennifer Jackson)
A heartbreaking, wildly inventive, and moving novel narrated by a teenage runaway, from the bestselling author of Midwives and The Sandcastle Girls.

Close Your Eyes, Hold Hands is the story of Emily Shepard, a homeless teen living in an igloo made of ice and trash bags filled with frozen leaves. Half a year earlier, a nuclear plant in Vermont's Northeast Kingdom had experienced a cataclysmic meltdown, and both of Emily's parents were killed. Devastatingly, her father was in charge of the plant, and the meltdown may have been his fault. Was he drunk when it happened? Thousands of people are forced to flee their homes in the Kingdom; rivers and forests are destroyed; and Emily feels certain that as the daughter of the most hated man in America, she is in danger. So instead of following the social workers and her classmates after the meltdown, Emily takes off on her own for Burlington, where she survives by stealing, sleeping on the floor of a drug dealer's apartment, and inventing a new identity for herself - an identity inspired by her favorite poet, Emily Dickinson. When Emily befriends a young homeless boy named Cameron, she protects him with a ferocity she didn't know she had. But she still can't outrun her past, can't escape her grief, can't hide forever - and so she comes up with the only plan that she can.

A story of loss, adventure, and the search for friendship in the wake of catastrophe, Close Your Eyes, Hold Hands is one of Chris Bohjalian's finest novels to date - breathtaking, wise, and utterly transporting.


Rights
Claire Nozieres manages the translation rights for Close Your Eyes, Hold Hands
Translation Rights Sold
Romanian
World
RAO International Publishing Company
Media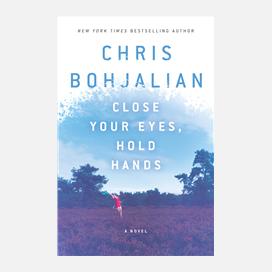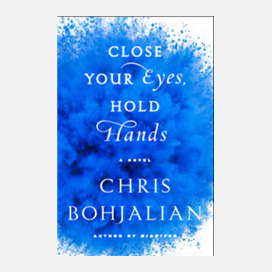 Reviews
I have a new favorite Chris Bohjalian novel. Close Your Eyes, Hold Hands is a book I wish I'd been smart enough to write: a masterpiece of narrative voice, of emotion, and of how - as Emily Dickinson might say - the sparest of words can hold a wealth of pain. If you need any proof that fiction can scare us, move us, and break our hearts simultaneously - look no further.
Jodi Picoult
Bohjalian has given us yet another remarkable story that grabs hold and won't let go.
The Bookseller
Full Review
For readers who discovered Bohjalian after his luminous Midwives became an Oprah's Book Club selection, the prolific author's latest novel will not disappoint.
Bookpage
Full Review
Bohjalian's impressive 16th novel charts the life of a teenage girl after a nuclear disaster . . . Through her first-person narration, readers become intimately familiar with Emily . . . Her admiration for kindred spirit Emily Dickinson serves to humanize her plight, as does an epiphany in the books' bittersweet conclusion.
Publisher's Weekly
Emily's story is both heartbreaking and frightening. . . The book rings with poetry and truth.
Jeanne Bogino
Library Journal
In his sixteenth novel, the versatile Bohjalian has Emily tell her harrowing, tragic story retrospectively . . . [A] brave saga.
Booklist
Chris Bohjalian is a master of depicting the small moments — the inevitable routines — that follow in the wake of a trauma. Emily Shepard is Bohjalian's greatest accomplishment — when you turn the final page you will relish her real-ness and wonder if that twinge of disquiet will ever go away.
Alice Short
The LA Times
Full Review