book
| Fiction
| 2010
US →
Crown Publishers
(Ed. Shaye Areheart)
From the bestselling author of Midwives, The Double Bind, and Skeletons at the Feast comes a novel of shattered faith, intimate secrets, and the delicate exploration of the nature of sacrifice.

"There," says Alice Hayward to Reverend Stephen Drew, just after her baptism, and just before going home to the husband who will kill her that evening and then shoot himself. Drew, tortured by the cryptic finality of that short utterance, feels his faith in God slipping away and is saved from despair only by a meeting with Heather Laurent, the author of wildly successful, inspirational books about...angels.

Heather survived a childhood that culminated in her parents' murder-suicide, so she identifies deeply with Alice and George's daughter, Katie, offering herself as a mentor to the girl and a shoulder for Stephen - who flees the pulpit to be with Heather and see if there is anything to be salvaged from the spiritual wreckage around him.

But then the State's Attorney begins to suspect that Alice's husband may not have killed himself...and finds out that Alice had secrets only her minister knew.

A novel of shattered family ties, intimate secrets, and the nature of sacrifice, Secrets of Eden is written with Chris Bohjalian's trademark compassion and explosive revelations.
Rights
Claire Nozieres manages the translation rights for Secrets of Eden
Translation Rights Sold
Chinese Simple
Mainland China
Shang Shu Culture Media Limited Company
Italian
World
Neri Pozza Editore
Media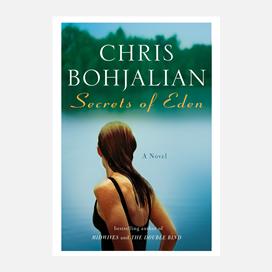 Reviews
The Oprah-endorsed Midwives author Chris Bohjalian has always known how to keep the pages turning.
Entertainment Weekly
Full Review
<em>Secrets of Eden</em> tempts readers with a tasty mystery

Secrets of Eden, Chris Bohjalian's superb new novel
USA Today
Full Review
...a masterfully human and compassionate tale.
Publishers Weekly Starred Review
Full Review