When one of homeopath Carissa Lake's patients falls into an allergy-induced coma, possibly due to her prescribed remedy, Leland Fowler's office starts investigating the case. But Leland is also one of Carissa's patients, and he is beginning to realize that he has fallen in love with her.
As love and legal obligations collide, Leland comes face-to-face with an ethical dilemma of enormous proportions. Graceful, intelligent, and suspenseful, The Law of Similars is a powerful examination of the links between hubris and hope, deception and love.
Rights
Claire Nozieres manages the translation rights for The Law of Similars
Media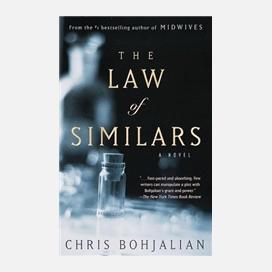 Reviews
The Law of Similars is a fast, fascinating read … a book that grows upon reflection, moving from a simple story of alternative medicine to a thought-provoking tale of life, choices, and personal growth.
The Denver Post
Bohjalian provides convincing portraits of humane, reasonable people undergoing enormous stress…He never underestimates the emotional costs that his characters have to pay for their actions.
San Francisco Chronicle
Gripping, heartbreaking, utterly real.
Mademoiselle
(A) warm yet uncloying evocation of a deeply rooted Yankee community torn between old virtues and New Age remedies.
People
The evocation of domestic routines and the quality of small-town life ring true in beautifully captured details.
Publishers Weekly
Bohjalian can and does create unforgettable scenes and minor characters in a few deft strokes… (He) is scrupulously fair to all his characters, and he researches his complex subjects well.
The New York Times Book Review
Bohjalian seems to have hit his literary stride with Leland Fowler, whose voice is intimate, credible, and sure in illuminating the shadows of his soul.... Once opened, The Law of Similars is a hard book to put down.
The Boston Globe