book
| Fiction
| 1995
World →
University Press New England
Set in the Vermont countryside, Water Witches is the tale of the clash between progress and tradition, science and magic.
In the midst of a nightmarish New England drought, cynical ski industry lobbyist Scottie Winston is trying to get a large ski resort the permits it needs to tap an already beleaguered river for snow. His wife, his little girl, and his sister-in-law—dowsers or "water witches"—all hope to stop him, however, in this gentle, comic, life-affirming novel.
Rights
Claire Nozieres manages the translation rights for Water Witches
Media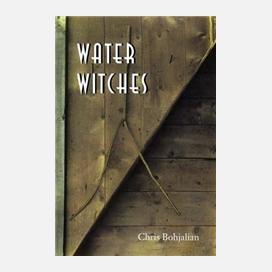 Reviews
Anyone whose family is divided between conservatives and liberals will squirm with recognition…Anyone who has enjoyed the pretension to being an insider in a capital city -- be it Montpelier or Washington -- will laugh uncomfortably.
The Washington Post Book World
Bohjalian's book is as beautifully made as a Windsor chair, as comforting as a long wood pile in October, and as flavorful as a Northern Spy apple.
Providence Journal
I was charmed by the mixture of country lore and planning boards, new age witches and old-fashioned family duties…For anyone interested in the way that we live with the land, on the land, today, this novel makes for a thoughtful evening or two of entertaining reading.
Alan Cheuse
In Chris Bohjalian's wise, splendid book, we hear the echo and avalanche made when centuries collide. One of the most elegantly philosophical, urgent-yet somehow timeless-novels of these perilous times.
Howard Norman