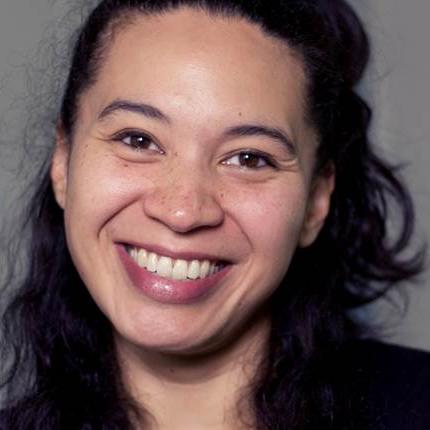 Christine featured on the BBC's New Talent Hot List 2017.
Working across comedy and drama, Christine's screenwriting credits include Trollied, Buffering, Flatmates and The Dumping Ground.
She is currently on the writing team for Avenue 5 for HBO and Shut Up And Dance for Sky Studios and has projects in development with Various Artists Limited, Hare and Tortoise, and Objective Fiction.
Her short play Stopcock was published in the Routledge anthology 'Short Plays with Great Roles for Women' in 2019.
Television
Writer & Creator
Writer
Co-written with Jess Gunning
Objective Fiction
In Development
Writer
co-written with Jessica Thom and Matthew Pountney
Hare & Tortoise
In Development
Original comedy about a mother and daughter trying to reconnect in the most unlikely way.

Original comedy about living with a constant reminder of how clever you're not.

Set in the early 90s, We're Not Groupies follows two teenage girls who ditch school to hitch-hike across the UK following Nirvana on tour.

Writer
Sky Studios
In Development
Writer
co-written with Iain Stirling and Steve Bugeja
Starring
Janine Harouni
Paul G Raymond
Rosa Robson
Jessie Cave
Iain Stirling
A brand new sitcom following a group of 20-somethings trying to navigate love, work and the art of 'adulting'.

Starring
Theo Stevenson
Richard Wisker
Nethra Tilakumara
Grace Hogg-Robinson
Manchester-based sitcom following the lives of five teens as they take their first uncertain steps into adulthood whilst trying to fulfil the millennial dream.

Starring
Andy Day
Brand new comedy following the crazy and chaotic adventures of Andy & The Odd Socks on the road.

Three Arrows Media
for
CBBC
Starring
Kia Pegg
Connor Byrne
Sarah Rayson
Hit series set in a group home, as a group of children face adventures together growing up in foster care.
CBBC Productions
for
CBBC
An episode of the popular sitcom set in a fictional supermarket in the north-west of England.
Starring
Jason Watkins
Sarah Parish
Popular sitcom set in a fictional supermarket in the north-west of England.
Additional Writer
The Movie spoof trailer and James Bond vs Nan sketch.

Theatre
Writer & Creator
A comedy about being your own cock block.

Southwark Playhouse, Omnibus Theatre, Canal Café Theatre
Film
Writer & Creator
Creator
co-written with Nicola Sinclair
A Christmas road trip comedy about a best man with something to prove.