book
| Fiction
| 2011
UK & Comm →
Chatto & Windus
Longlisted for the 2011 Man Booker Prize

As the shadows lengthen over the June grass, all England is heading for Epsom Downs – high life and low life, society beauties and Whitechapel street girls, bookmakers and gypsies, hawkers and acrobats, punters and thieves. Whole families stream along the Surrey back-roads, towards the greatest race of the year. Hopes are high, nerves are taut, hats are tossed in the air – this is Derby Day.

For months people have been waiting and plotting for this day. Even in dark November, when the wind whistles through the foggy London courts, the alehouses and gentlemen's clubs echo to the sound of disputed odds. In Belgrave Square old Mr Gresham is baffled by his tigerish daughter Rebecca, whose intentions he cannot fathom. In the clubs of St James's rakish Mr Happerton plays billiards with his crony Captain Raff, while in darkest Lincolnshire sad Mr Davenant broods over his financial embarrassments and waits for his daughter's new governess. Across the channel the veteran burglar Mr Pardew is packing his bags to return, to the consternation of the stalwart detective Captain McTurk. Everywhere money jingles and plans are laid. Uniting them all is the champion horse Tiberius, on whose performance half a dozen destinies depend.

In this rich and exuberant novel, rife with the idioms of Victorian England, the mysteries pile high, propelling us towards the day of the great race, and we wait with bated breath as the story gallops to a finish that no one expects.
Rights
Film Rights
Available
Contact Luke Speed for more information
Liz Dennis manages the translation rights for Derby Day
Media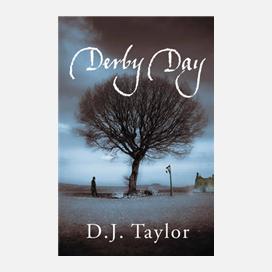 Reviews
Derby Day is a triumphant success...in this unputdownable Victorian romp [Taylor] enjoyable proves himself to be one of the finest of our 21st-century novelists
Financial Times
Derby Day will be hard to put down...As ever with Taylor, literary complexities lurk under the smooth surface of a stylish page-turner.
Condé Nast Traveller
...meticulously plotted and written with bouncy confidence
Spectator
Taylor, with patient stealth, assembles a ring of enjoyably seedy or unprepossessing figures...What distinguishes it from generic thriller-writing is the author's knowledge of the period
Times Literary Supplement
Taylor's great skill is in characterisation...In this accomplished work [he] has effectively captured the mutable nature of this unsettling period
Literary Review
This is a book to read by the fireside, to be swept along in, to realise - with a start - that hours have gone by...In other words, to rediscover the lost-in-another-world joy of reading. And this book really IS a joy...my favourite book of the year so far
Eastern Daily Press
Taylor has written an exceptionally clever pastiche 19th-century novel with a richness of character that almost matches his models of Dickens and Thackeray
Sunday Times
The whole is an engaging drama - escapism of the highest standard
Independent on Sunday
...this is, like all good novels, a rich study of character. Taylor layers texture and color in an almost painterly style, as he combines the complexity and formality of a Victorian novel with the narrative tightness modern readers demand.
The Atlantic