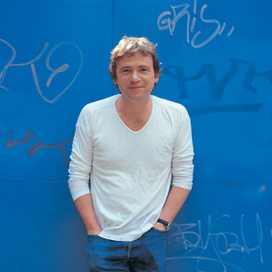 David Nicholls trained as an actor before making the switch to writing. His TV credits include the third series of Cold Feet, Rescue Me, and I Saw You, as well as a much-praised modern version of Much Ado About Nothing and an adaptation of Tess of the d'Urbervilles, both for BBC TV. David has continued to write for film and TV as well as writing novels, and he has twice been nominated for BAFTA awards.
David's bestselling first novel, Starter for Ten, was selected for the Richard and Judy Book Club in 2004, and David has written the screenplays for film versions of both Starter for Ten (released in 2006, starring James McAvoy) and The Understudy (not yet released).
David Nicholls' third novel, One Day, was published in hardback in 2009 to extraordinary critical acclaim, and stayed in the Sunday Times top ten bestseller list for ten weeks on publication. It has since gone on to sell over five million copies and has been translated into forty languages. One Day won the 2010 Galaxy Book of the Year Award. David wrote the screenplay for Lone Scherfig's film adaptation starring Jim Sturgess and Anne Hathaway, which was released in 2010.