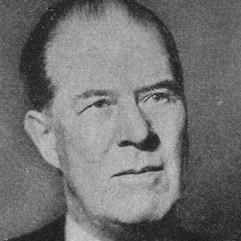 E.C.


Bentley

Journalist and novelist

1875–1956
Edmund Clerihew Bentley was a journalist, humorist and one of the first authors of the genre of the modern mystery. Bentley's first detective novel, Trent's Last Case, was written in reaction to the solemnity of Sherlock Holmes, and has been hailed as the first classic of the Golden Age of Detective Fiction.

In 1905 Bentley's first collection of poetry was published and it popularised a poetic form of Bentley's invention, the clerihew. He followed this collection with three further collections of clerihews and continued to write detective stories as well.

As a journalist Bentley wrote for the Daily News and later for the Daily Telegraph, in addition to freelance work for various publications.

Trent's Last Case has been translated onto the screen three times. The most recent adaptation was directed by Herbert Wilcox in 1952, and starred Orson Welles, Margaret Lockwood and Michael Wilding.
His son, Nicolas Bentley, was an author and illustrator.