book
| Non-Fiction
| 2014
World English →
Bloomsbury Publishing
(Ed. Anton Mueller)
From the author of The Flâneur and City Boy: a memoir of Edmund White's years in Paris.

When Edmund White moved to Paris in 1983, he was forty-three years old, couldn't speak French, and only knew two people in the entire city. But in middle age, he discovered the new anxieties and pleasures of mastering a new culture. When he left fifteen years later to take a teaching position in the U.S., he was fluent enough to broadcast on French radio and TV, and in his work as a journalist, he'd made the acquaintance of everyone from Yves St. Laurent to Catherine Deneuve to Michel Foucault. He'd also developed a close friendship with an older woman, Marie-Claude, through which he'd come to understand French life and culture in a deeper way.

The book's title evokes the Parisian landscape in the eternal mists and the half-light, the serenity of the city compared to the New York White had known (and vividly recalled in City Boy). Because White certainly fell headily in love with the city and its culture: intoxicated and intellectually stimulated. He became the definitive biographer of Jean Genet; he wrote lives of Marcel Proust and Arthur Rimbaud. He became a recipient of the French Order of Arts and Letters. Inside a Pearl recalls those fertile years for White, and offers a brilliant examination of a city and a culture eternally imbued with an aura of enchantment.
Rights
Audio Rights
Available
The audio rights are handled by Liz Farrell.
Helen Manders manages the translation rights for Inside a Pearl
Media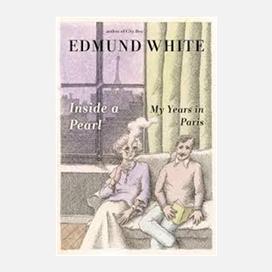 Reviews
There is at once something artfully canny and beguilingly innocent about Inside a Pearl. You want to hold on to him, will him to live more, live longer and write about more years

Independent
We are lucky to have him still publishing . diverting, affectionate as well as bitchy, and full of tips

London Evening Standard
Edmund White writing about his Paris years, with walk-on parts for Catherine Deneuve, Yves Saint-Laurent and other assorted members of the French glitterati? That'd be Inside a Pearl

Scotsman
In the end, this dazzling memoir isn't just a love song to a city - a city "so calm" it is "like living inside a pearl" - but profoundly moving elegy to a friend

Sunday Times
Paris may well be White's pearl, but he is in fact the real pearl... This wonderfully eccentric, conversational and personalised cultural history contains the essence of Edmund White. Entertaining and wry, White is worldly-wise and wise

Irish Times
Gossip: the lighter fuel of our interactions. It can be done badly and still be fun, or — as in Edmund White's Inside a Pearl: My Years in Paris — with delicious waspishness and detail and turn out to be a riot. This is one of those books best enjoyed with bon-bons. Phone turned off. Other human company banished. Bills left unpaid for another day. Sit and immerse.
Tim Teeman
Gay City News
Full Review
A glittering, delicious, tender, and funny memoir about his fifteen years in Paris.
Liz Garrigan
Nashville Scene
The title of White's memoir, Inside a Pearl, refers not only to Paris, with its mists and mysteries. This pearl is somehow a kind of snow globe as well, a transparent sphere that encloses a miniature world. White shakes this luminous object. Snow shimmers everywhere. And then the snow settles.
Jay Pirini
The New York Times Book Review
Recommended for memoir enthusiasts and lovers of Paris.
Library Journal
Full Review
White is renowned for the purity of his style and for his frank depictions of sex, and he is in peak form here.
Michael Autrey
Booklist
Full Review
A memoir that engages on a number of levels, as a pivotal literary figure recounts his productive Parisian years.
Kirkus Reviews
Full Review