book
| Fiction
| 2014
World English →
Bloomsbury Publishing
(Ed. Helen Garnons-Williams)
Canada →
Hamish Hamilton
(Ed. Nicole Winstanley)
Wallflowers
is a stunning collection of short stories by one of Canada's rising stars.
Robertson's stories are beautifully observed and deftly constructed. With their unexpected perspectives and surprising endings, the stories in Wallflowers often follow loners and observers, characters whose experience or lack the allows them to see things differently from how most of us come to see them.
The story 'We Walked on Water', which appeared in Granta, was the winner of the 2013 Commonwealth Short Story Prize.
Rights
Audio Rights
Available
The audio rights are handled by Alice Lutyens.
Film Rights
Available
Contact Joe Phillips & Jenn Lambert for more information
Claire Nozieres manages the translation rights for Wallflowers
Media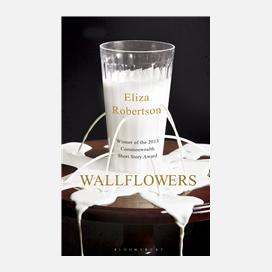 Reviews
'Assured and ambitious'
Lidija Haas
The Guardian
The young Canadian writer won the 2013 Commonwealth Short Story Prize, and this debut collection shows why. The tales in Wallflowers are at once sad and playful, as weird as life itself, and just as devoid of answers.
Maria Crawford
Financial Times
Reading Wallflowers, Eliza Robertson's debut story collection, is like taking a solo swim across a chilly lake. You become mesmerized by details - the silken texture of the water, the cool air on your arms as they rise and fall, the rhythm of your breath, the dark scrub of trees on the distant shore - without ever forgetting the mysteries and potential dangers that lurk beneath.

Natalie Serber
New York Times
Tremulous, tender, indeed, Munro-esque.
Macleans
Canada's next big lit star.
Flare
Wallflowers contains great story after great story after great story. . . proof that this up-and-coming writer has finally arrived.
Winnipeg Free Press
This is a moving and surprising collection of stories. Wallflowers has such a variety of subjects and voices—which in itself I admire—but there's unity in the presence of objects, those inanimate things that sit on the bedside and watch our tragedies unfold. It feels like a history of the objects we reach for, the things we can't get, and the things that outlast everyone. Robertson is a writer who has a kinship with those objects—detached, playful, watching, wise to the fact that these dramas will play out.
Colin McAdam,
author of A Beautiful Truth
With grace, beauty and true grit, Eliza Robertson makes the familiar shockingly and blindingly fresh, like the world after a cleansing rain. A stripper's deodorized armpits glow under black lights, a desperate boy sails to China, levies burst, and there's fire and conflagrations of the soul. There are no wallflowers here, only stories dancing to their fierce heartbeats right up to the edge of the cliff -- and sometimes over.
Zsuzsi Gartner,
author of Better Living Through Plastic Explosives
Her stories display a startlingly original way of looking at the world, finding magic and mystery in ordinary life... Under an almost whimsical playfulness, there is always a dark undercurrent - and the tide can turn at a moment's notice. These shifts are handled expertly, packing a powerful emotional punch. An exciting new voice in short fiction.
Juanita Coulson
The Lady
In Eliza Robertson's captivating debut, people drown in grey water, shacks burn on stony beaches, planes crash into rivers, hummingbirds are trapped and tethered to wrists, neighbourhoods flood. Grief and loss cast long shadows over these stories, which sometimes bring us to the threshold of disaster and sometimes explore its aftermath [...] Robertson pays careful attention to the smallest detail [...] But Wallflowers also asks big questions, not only how we survive loss and achieve intimacy, but whether we are strong enough, like the flowers in the flood, to stand straight and sing our sorrows to the world.
Natalie Serber
Scotland on Sunday
Robertson, with her amazing ability for turns of phrase and her insanely creative metaphors, still knows how to rein it all in and deliver a story that is at once quiet and thunderously heartbreaking [...] Eliza Robertson, for me, is a wunderkind, one of our country's most inventive and exciting new writers.
Joseph Boyden
The Walrus
Full Review