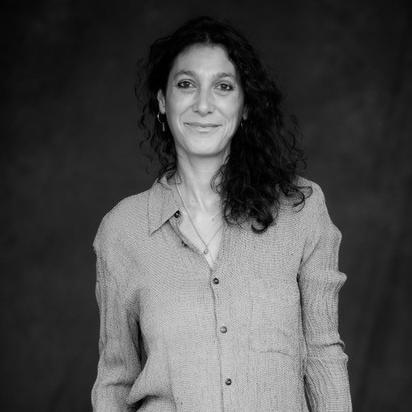 Emily Atef is half French, half Iranian, and was born in Berlin. With her family she moved to Los Angeles at the age of 7. At 13 they moved to France and later she left to London to work in the theatre. Emily finally settled down in Berlin where she studied directing at the DFFB (German Film Academy).
Her latest feature 3 Days In Quiberon competed for the Golden Bear at the 2018 Berlin International Film Festival (Berlinale) and won 7 Lolas at the 2018 German Film Awards (including Best Director and Best Film).

Television
Director
Starring
Jodie Comer
Sandra Oh
Director of episodes 5 & 6
Constantin TV
for
SWR,
ARD
Black comedy 90 min single film as part of the drama series Tatort.
Nominated for the German Grimme Award.

Film
Writer & Director
Starring
Vicky Krieps
Gaspard Ulliel
Eaux Vives Productions FRANCE/Niko Films GERMANY/ Samsa LUXEMBOURG / Mer Film NORWAY
In a rehab clinic Romy Schneider gives her last interview to two journalists. Three days, driven by romantic desire, professional ambition and the urge for living.

World Premiere: Competition at the Berlin International Film Festival 2018
Outstanding Feature Film, Best Director, Best Cinematography, Best Music at German Film Awards 2018
Beta Cinema, Prokino Filmverleih
Rohfilm Factory, in co-production with Dor Film, Sophie Dulac Productions ARTE/ NDR
Best European Film at Bradford International Film Festival 2013

Les Films du Losange
Niko Film, Wüste Film West, Ciné Sud, Hugo Film
World Premiere: Cannes 2008 La Semaine de la critique

Best Director at Studio Hamburg Film Awards 2009;

Best Film at 32.Sao Paulo Inter. Film Festival 2008;
Best Film, German Independence Award at Film Festival Oldenburg 2008;
Audience Award at Film Festival Oldenburg 2008;
Otto-Sprenger-Preis, Best Film at Film Festival Oldenburg 2008;
Best Film at Alba Inter. Film Festival 2009;
Best Film at Augenblick Film Festival, France 2009;
SIGNIS Award for Best Film at 23.Mar del Plata Inter. Film Festival 2008;
Canvas Award for Best Film at European Film Festival Brussels 2008;
Audience Award at Film Festival CNRS des Science, Bordeaux 2009;
Best Film at German Film Festival, Nantes 2009
ZDF; Bavaria Film International
NiKo Film Production, DFFB & Arte
Grand Jury Award at Mar del Plata International Film Festival, Argentina 2006;
Best Film at Film Festival Türkei/Deutschland, Nuremberg 2006;
Best Film at Neisse Film Festival, Germany 2006;
Best Script at Filmfestspiele Munich, Germany 2005;
Audience Award at Filmwochende Würzburg, Germany 2006;
Special Jury Award for Best Cinematography at Valdivia Inter. Film Festival, Chile 2006;
Silver Circle award for Best Film at Bogota International Film Festival, Columbia 2006

Director
Award for best short film 2004 at Lucca Film Festival, Italy

Audience award at Long Island Film Festival;
Best short at LGBT Pittsburg IFF;
Jury award at International LGBT Film Festival

3 SAT (German National TV)