Nominated for the Children's Book of the Year at the Galaxy National Book Awards

book
| Fiction
| 2011
Shortlisted for the Red House Children's Book Award
Eva Ibbotson's final book, One Dog and His Boy, is a true canine classic.

All Hal has ever wanted is a dog. His wealthy parents refuse to consider one until they discover Easy Pets, a convenient dog-rental agency. Fleck arrives on Hal's birthday, but when Hal discovers that his dog must be returned, he runs away.

Joined by a group of pedigree breeds joyfully escaping from Easy Pets, Hal and Fleck set forth on a quest to find their own perfect place - somewhere they can be together for always.
Rights
Roxane Edouard manages the translation rights for One Dog and His Boy
Translation Rights Sold
Chinese Simple
Mainland China
Guangxi Normal University Press
French
World
Editions Gallimard
Hungarian
World
Pozsonyi Pagony Kft.
Italian
World
Adriano Salani Editore
Japanese
World
Kaisei-sha
Korean
World
Kkumsodami Publishing
Latvian
World
Zvaigzne ABC Publishers
Lithuanian
World
Nieko Rimto
Polish
World
Egmont Polska Sp Zoo
Portuguese
Brazil
Editora Rocco
Swedish
World
Berghs Forlag Ab
Vietnamese
World
Kim Dong Publishing
Media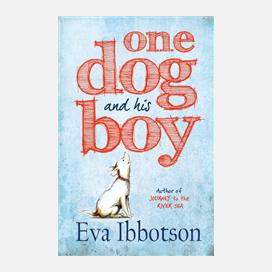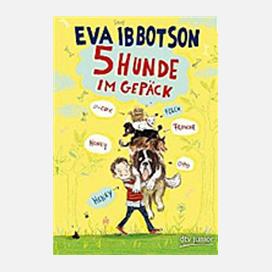 Reviews
"A journey that leaves the reader both breathless and elated, both smiling and tear stained at the same time."
Chris Middleton
The Telegraph Weekend
Eva Ibbotson is a writer who understands a child's heart...One Dog and His Boy is an adventure to rival that other canine odyssey, The One Hundred and One Dalmatians.
Amanda Craig
The Times
"The prose bounds along with humour and joie de vivre and, by the end, everyone - human and canine - discovers their true home."
Nicolette Jones
The Sunday Times
"Every obstacle – and there are many – that Hal's runaway adventure throws up is successfully – and happily – resolved so that the story is suspenseful yet gently reassuring. Acutely observant, the book is brimming with humour – affectionate towards the children and dogs, and biting towards the adults who treat them as possessions and accessories."
Books For Keeps
"One Dog and his Boy is as good as Journey to the River Sea, and is right up there with 101 Dalmations as the kind of book about the love and courage of dogs that every child longs for and hardly ever gets. It made me laugh uproariously one moment, and cry my eyes out the next - I haven't enjoyed a book for this age-group so much for years."
Amanda Craig
The Times
Blows me away… It takes a sweetly old fashioned
story – boy wants dog – and makes it feel crispy,
new and even edgy.

Frank Cottrell Boyce
A storytelling and linguistic delight.

Scotsman
An exquisitely crafted book with not a single wasted word.

School Zone - Librarian's Book Choice
A lovely, funny, beautifully written story from a cherished writer.

Daily Mail
Your next Christmas present to a child who reads it will have to be a puppy ...

New Statesman
I absolutely loved it. Such a wonderful book.

Booktrust - Book of the Month
There's more than a touch of The One Hundred and One Dalmatians in the collaboration of the canine friends… Beautifully produced, with black and white line drawings.

The Guardian
The height of her creative powers ...

Damian Kelleher
For anyone who hasn't discovered the effortless warmth and joy and pin-sharp wit that made Ibbotson great this story of loyalty and friendship is a must… beautiful.

Independent on Sunday