Silver medal winner in the Nestle Smarties Book Prize, 9-11 years category, 2004

Shortlisted for the Carnegie Medal, 2005
In 1896, in a pilgrim church in the Alps, an abandoned baby girl is found by a cook and a housemaid. They take her home, and Annika grows up in the servants' quarters of a house belonging to three eccentric Viennese professors. She is happy there, but dreams of the day when her real mother will come to find her. And sure enough, one day a glamorous stranger arrives at the door. After years of guilt and searching, Annika's mother has come to claim her daughter, who is in fact a Prussian aristocrat whose true home is a great castle. But at crumbling, spooky Spittal Annika discovers that all is not as it seems in the lives of her new-found family . . .​

Eva Ibbotson's hugely entertaining The Star of Kazan is a timeless classic for readers young and old.

Rights
Roxane Edouard manages the translation rights for The Star of Kazan
Translation Rights Sold
Chinese Simple
Mainland China
Guangxi Normal University Press
Italian
World
Adriano Salani Editore
Romanian
World
Meteor Press
Media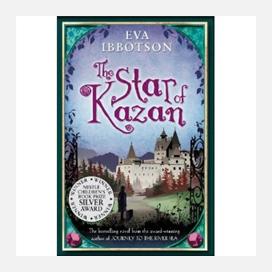 Reviews
Ibbotson excels at describing not only the world of the senses but that of the heart . . . Ibbotson's genius is for creating people (and animals) whom you instantly
recognize and love.

The Times
Draws you in and won't let you go until the last page is turned and the last sigh is sighed.

Books for Keeps
Eva Ibbotson is one of our most enjoyable writers for the young. She tells stories with humour, warmth and perfect clarity in a way that children follow completely . . . The book [. . .] is delicious.

Sunday Times
The Star of Kazan is a heartwarming, old-fashioned adventure ... as absorbing as Ibbotson's prize-winning Journey to the River Sea.
Julia Eccleshare
Guardian
Eva Ibbotson is writing better than ever ... The Star of Kazan ... should pick up more prizes.
Independent
The bookshops are crammed with children's titles, but where is the quality in all that quantity? Amid the flurries of new titles, what do you choose? This summer the problem is solved. Ibbotson has written a new novel, The Star of Kazan.
Dina Rabinovtich
Guardian
A fabulously satisfying read.
Sunday Telegraph
This is a solidly traditional piece of story-telling ... There is more to the book than a good story, expertly told.
Times Educational Supplement
This is a beautiful, simply written and enchanting story that will keep you in suspense until the very end. An excellent read.
Publishing News
The Star of Kazan weighs in at an impressive 380 pages, and that is important because when you are presented with story-telling of this calibre, you simply never want it to end.
Lindsey Fraser
Bookseller