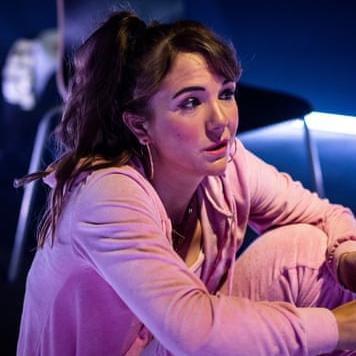 Florence is a writer and actor from Chippenham in Wiltshire, a town with no theatre and limited access to it. She writes for both stage and screen about and with working class communities in the South West in the hope of making the arts more accessible to everyone, regardless of background and geographical location. She is the Writer in Residence at Pentabus Theatre, an Open Session Writer at Bristol Old Vic and an associate artist at Strike a Light, as part of the Let Artists Be Artists programme.

Her debut play DESTINY is currently touring the Southwest, following a recent run at the Pleasance London as part of their National Partnerships Award with Bristol Old Vic FERMENT.

Her second play Blinded By Your Grace is being developed with support from MAYK, Strike A Light, Wiltshire Creative and Wild Child.

She is developing a TV pilot South West Side with support from Wild Child and Oliver Lansley.


It is difficult not to warm to Destiny, written and performed by Florence Espeut-Nickless in a monologue directed by Jesse Jones, presented online for the Edinburgh fringe and supported by the Pleasance and by Bristol Old Vic's Ferment programme. Despite her surface-level confidence, there is a naivety to her storytelling. As she repeatedly makes decisions that end in inevitable pain, she manages to find humour in her darkest moments – and you can't help but laugh along.
Anya Ryan
The Guardian on Destiny
Theatre
Writer & Performer
This monologue follows the story of a teenage girl that dreams big whilst growing up on a rural Wiltshire council estate. After a big night out takes a turn for the worst, Destiny's life spirals out of control as she desperately tries to learn how to love and be loved.

Developed with support from Bristol Old Vic FERMENT, Tobacco Factory Theatres, Pound Arts, Strike A Light, Tim Crouch, Wiltshire Creative, Pleasance, Theatre Bristol, Natural Theatre, Hawkwood College, Paper Arts and Gane Trust.

Writer
An epic ensemble theatre show created with/by and for young people in the Southwest. It explores grief, bereavement, and memorialisation for teenagers after the death of a friend/peer. It celebrates the power of community, of coming together, uniting in a time of trauma. Its full of music, energy, celebration, and dance, but also pain, heartache and loss.

Developed through Papatango's Write West programme and Oliver Lansley's Mentoring Scheme for Writers in association with Wild Child.



Seed Commission: MAYK and Strike A Light
Television
Writer
A bold vibrant comedy TV series that follows a group of young working-class mates in a small west-country town. The show explores the glamorisation of drug dealing vs the often bleak realities, and challenges what other opportunities are available to young people growing up in deprived isolated communities. It looks at the assimilation to American rap culture and young women from this community working in the sex industry – on platforms such as Only Fans and Adult Work.

Wild Child's Mentoring Scheme.
In Development