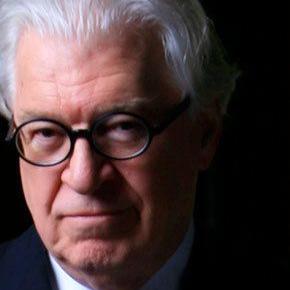 Frank


Delaney

Writer, journalist, broadcaster

1942–2017



Born in Tipperary, in the South of Ireland in 1942, Frank Delaney joined the BBC in the mid 1970s, covering the Troubles in Northern Ireland. After five years on that dangerous front, the BBC transferred Delaney to London, where he lived for more than twenty-five years. Helming their arts broadcasting on both radio and television, he became host and contributor to Omnibus, the voice of The Royal Opera and Royal Ballet, and host and contributor to the long-running World Service show on arts and artists, Meridian.
During this period, Delaney also inaugurated the award-winning, Bookshelf for BBC Radio Four, interviewing over the next decades, thousands of the most significant writers of our time; from Somerset Maugham and John Updike to Margaret Atwood and James Baldwin. In the early 1980s, he hosted his eponymous television talk show, Frank Delaney, with a cultured but witty guest list, broad enough to include Tom Stoppard, Doris Lessing and Ronnie Wood.
Delaney was the Literary Director of the Edinburgh Festival. He created a number of inventive programs for the BBC, including Word of Mouth, the long-running and award-winning radio show on the development of the English language. His one man show, Re:Joyce, on the life and work of James Joyce, staged at the National Theater, sold out for its entire run. His six-part television series, The Celts, was seen in over 40 countries and remained in active distribution for more than twenty years.
By the time he moved to America in 2001, he had produced fifteen of his twenty-three books, and often referred to himself as a "broadcaster who wrote," hoping the move to America would change his status to that of a "writer who broadcasts". Soon after his move, his major work, Ireland tracing his home country in myth, legend, history and memory, was published to great acclaim and was a New York Times bestseller.
Along with four screenplays, including the much-praised ITV/Masterpiece Theater Goodbye Mr. Chips, Mr. Delaney created the non-fiction, Simple Courage, named #4 on the American Library Association's list of The Year's Best Books, followed by a series of "Books of Ireland," following in fiction the decades between the turn of the last century's fight for Irish Independence, and the present day.
Returning to his love of James Joyce again and again, he wrote, performed and produced the internationally acclaimed podcast: Re:Joyce, in weekly editions between 2010 and 2017, deconstructing Joyce's Ulysses. At the time of Delaney's death, Re:Joyce had more than a million downloads.
Frank Delaney died in 2017 in Litchfield County, Connecticut, where he lived with his
wife, Diane Meier.