book
| Non-Fiction
| 2012
UK →
Chatto & Windus
(Ed. Beckie Hardie )
How one high-flyer completely rethought her work and family life, and how doing the same could work for all of us…

For families everywhere, it remains the ultimate dilemma: how to balance a happy, healthy family life with the demands and rewards of work. For Gaby Hinsliff, then Political Editor of The Observer, the only solution was to quit – and start with a blank sheet of paper.

Half a Wife is the story of a leap into the dark. It asks what might happen if we did things differently: not giving up on success, but redefining it. What Gaby Hinsliff finds is that overstretched working parents need 'half a wife'– someone with the equivalent of a couple of working days a week focused mainly on home and family, but someone who doesn't necessarily need to be a woman. Arguing that men are too often pushed out of the family debate, she describes the emerging 'daddy wars' between men with very different ideas of fatherhood and looks at the price paid within marriages when work and family life are at odds.

Based on personal experience but also drawing on new thinking from around the world in politics, psychology, neuroscience and even architecture, Half a Wife is a must-read for guilt-torn parents of both sexes who are teetering on the edge, but also a wake-up call to opinion leaders.

It is essential – and optimistic – reading for anyone who feels the visceral pull of home, but also the lure of meaningful work.
Rights
Audio Rights
Available
The audio rights are handled by Alice Lutyens.
Claire Nozieres manages the translation rights for Half A Wife
Media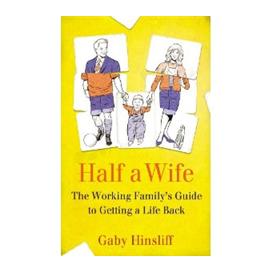 Reviews
"Hinsliff's ideas for how working parents should proceed are provocative and good...this is a wholly supportive blueprint for any harassed parent thinking about working from home or currently doing so."
Rosie Millard
The Observer
"This is no dummy's guide to Calpol and yummy-mummyhood, but a serious-minded study of the hoary old chestnut of cracking the work-life balance. It's a book that not only manages to break new ground but also throws up some intriguingly different solutions."
Eleanor Mills
Culture Magazine
"Hinsliff's case studies to support her theories of a solution are inspiring and wide-ranging…Half a Wife is important. We can be happy, says Hinsliff, if we just try. She's not very British about it. And thank God for that."
Esther Walker
Evening Standard
"A wonderfully sane and helpful book. Better than Calpol."
Allison Pearson
An invaluable guide for any parent.
Allison Pearson
Full Review