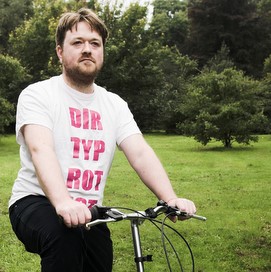 Gary


Owen

Writer for Television and Theatre
Gary's most recent plays include a radical reworking of The Cherry Orchard for the Sherman Theatre, which translated the action of the play to 1980s Pembrokeshire, at the beginning of the Thatcher era, and Killology, a co-production between the Sherman Theatre and the Royal Court, which won Outstanding Achievement in an Affiliate Theatre at the 2018 Olivier Awards. Gary's newest play Romeo and Julie is due to be performed at the National Theatre.
Previously he's written Violence and Son for the Royal Court. Violence and Son was nominated for an Olivier in 2016, and its star David Moorst won Best Emerging Talent at the Evening Standard Awards and Most Promising Newcomer at the Critics' Circle Awards for his performance as Liam. In 2015, he wrote Iphigenia in Splott for the Sherman Theatre. After two sell-out runs at the Sherman, Iphigenia played the Edinburgh Festival as a British Council showcase pick, ran for a month the National Theatre in London, toured the UK, played at the FIND festival at Thomas Ostemeier's Schaubuhn Theatre in Berlin and at the E59E Theater in Manhattan, where it was a New York Times pick of the week. Iphigenia in Splott won the UK Theatre Best New Play award and the James Tait Black Prize for Drama, and earned its lead, Sophie Melville, a Stage Award for Acting Excellence and an Evening Standard Award nomination for Best Actress.
Gary's earlier work includes Crazy Gary's Mobile Disco, The Shadow of a Boy (winner George Devine and Meyer Whitworth awards), The Drowned World (winner Fringe First and Pearson Best Play awards), Ghost City, Mrs Reynolds and the Ruffian and Love Steals Us From Loneliness. He is a creative associate at Watford Palace Theatre, and an associate artist at the Sherman. His plays have been translated into more than a dozen languages and produced all over the world, and are published by Oberon.
Theatre
Writer
Starring
Morfydd Clark
David Moorst
Liam's 17 years old, loves Doctor Who and has lost his mum. He's had to leave his home and move to Wales, to the Valleys, to the middle of nowhere, to live with a dad he doesn't know…whose nickname isn't Violence for nothing.
Director
Rachel O'Riordan
Starring
Sophie Melville
Stumbling down Clifton Street at 11:30am drunk, Effie is the kind of girl you'd avoid eye contact with, silently passing judgement. We think we know her, but we don't know the half of it.
Joe and Anna have been together for nine years, and as far as he is concerned will stay together for another ninety. But the minute they set a date for the wedding, Anna has second thoughts. A new dating agency promises to scan the online persona of everyone in the world, guaranteeing to find your soul mate. Anna looks at Joe and wonders - can he really be her perfect match?
An original, darkly comic play for Hampstead and Theatre Clywd
Starring
Remy Beasley
Nia Roberts
Katie Elin Salt
Mark Sumner
An original play for the National Theatre of Wales about teenagers in Bridgend
National Theatre of Wales
Starring
Grahame Fox
Rhodri Lewis
A three hander produced by Paines Plough and Oran Mor as part of their A Play, A Pie, A Pint season of touring productions
Paines Plough and Oran Mor
An original full length play about a young offender who forms an unlikely bond with an old woman he is sent to help on a reparation scheme
A new play for Forest Forge Theatre Company
A new stage version of the classic novel by Charles Dickens for Sherman Cymru
An original play for teenagers, written for Sherman Cymru
An original play for Replay Productions, a play for young people about mental health.
A new play for the National Theatre of Scotland, in development
National Theatre of Scotland
Producer
Fluellen Theatre
National Theatre commission
An original play for Watford Palace Theatre set druing the World War II
Starring
Jonathan Floyd
Nia Gwynne
Rachel Isaac
Celyn Jones
A series of monologues giving a glimpse into the life of a city over the course of a single day
Producer
RWCMD in collaboration with Sgript Cymru
Director
Vicky Featherstone
A play for Paines Plough, a dystopian vision of the future where the ugly quarantine and kill the beautiful.
A play for the National Theatre, joint winner of the George Devine Award.
Director
Vicky Featherstone
Chapter Arts Centre, Cardiff
Spanning a century and based on true events chronicled in the Aztec codices, A Soldier In Every Son – The Rise of the Aztecs is closely inspired by Shakespeare's history plays.
Swan Theatre, Stratford-Upon-Avon
Executive Producer
An updated version of Frank Wedekind's 1890's play about teenagers discovering sex
Royal Welsh College of Music and Drama
Television
Writer
Starring
Gareth Jewell
Steve Meo
Richard Corgan
Joshua Jenkins .
Second series of Welsh drama for BBC Wales co-written with Helen Raynor
Producer
Juliet Charlesworth
Starring
Boyd Clack
Eiry Hughes
Steve Meo
Eva Myles
Original three part drama for BBC Wales co-written with Helen Raynor
Creator & Writer
By any measure going, this is perfect theatre: intelligent, moving, and horribly, horribly relevant. Most of all, though, in those final moments, it feels like the start of a revolution.
Andrew Haydon
The Guardian on Iphigenia in Splott