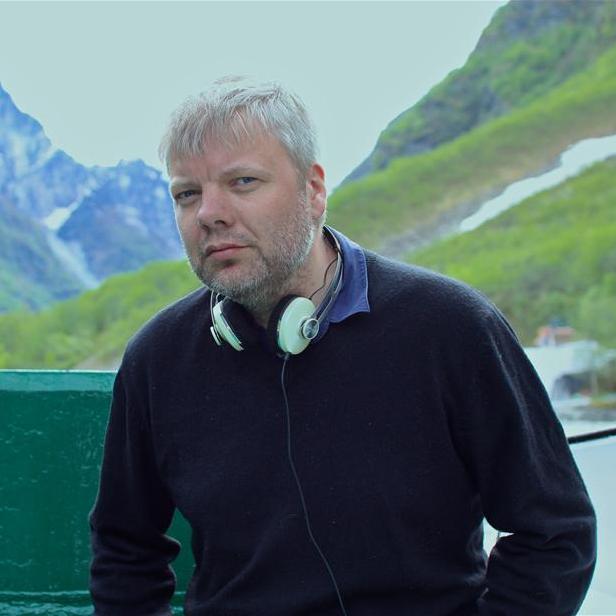 Geir


Henning Hopland


Director and writer for television and film
Geir Henning Hopland is a director and script writer born in Bergen, Norway.
Geir has recently directed The Lawyer, a concept by creator of The Bridge, Hans Rosenfeldt and the internationally bestselling author Jens Lapidus, with Academy Award nominee Nicklas Wikström Nicastro as producer for SF Studios.

He has directed the pilot and eight episodes of the show Acquitted, which was the biggest ever launch for TV2 and has been nominated for four Golden Screen Awards in Norway, including Best Director. Prior to that Hopland directed seven episodes of the biggest drama export and current hit show from Norway, Lilyhammer, starring Steven Van Sandt, which won The Golden Nymph in Monte Carlo.
Geir was nominated for two Golden Screen, Best Direction and Best Script, for the critically successful Buzz Aldrin, What Happened to You in All the Confusion? Filmed in the Faroe Islands and Norway, it was nominated for 9 Golden Screens in Norway and won three prizes.
Geir directed Magnus for NRK, filmed in English and Norwegian and most recently directed Bloodride, Netflix's Norwegian horror anthology series.
Television
Director
Starring
Vidar Magnussen
Magnus - arguably the worst investigator in the police - gets the task of solving a murder riddle which simply literally is out of this world.

Creator
Hans Rosenfeldt, Jens Lapidus, Michael Hjort
Producer
Nicklas Wikstrom Nicastro
Writer
Maria Karlsson, Oliver Dixon, Karin Gidfors
Starring
Alexander Karim
Malin Buska
Thomas Bo Larsen
Sara Hjort Ditlevsen
A successful Swedish defense attorney discovers his firm's most important client is responsible for the murder of his parents.



SF Studios for Viaplay/Studiocanal
A police detective is trying to locate his missing daughter, while solving other cases.

Second series of the Norwegian crime drama

Writer
Anne Bache-Wiig & Siv Rajendram Eliassen
Starring
Nicolai Cleve Broch
Lena Endre
Synnove Macody Lund
Tobias Santelmann
Norwegian crime drama about a man returning home having been acquitted for the murder of his high school sweetheart 20 years earlier
Writer
Eilif Skodvin, Tomas Solli & Steven Van Zandt
Starring
Trond Fausa
Steinar Sagen
Fridtjov Såheim
Henriette Steenstrup
Second series of the Norwegian comedy crime drama
Rubicon TV AS
for
NRK 1,
Netflix
Producer
Trond Berg-Nilssen & Agnete Thuland
Writer
Anne Bjørnstad, Eilif Skodvin & Steven Van Zandt
Starring
Trond Fausa
Kyrre Hellum
Marian Saastad Ottesen
Steinar Sagen
Norwegian comedy crime drama about a New York mob boss forced to move to Lillehammer after informing on his associates
Rubicon TV AS
for
NRK1,
Netflix
Writer & Director
Starring
Adrienne Diana Bobis
Maja Bohne Johnsen
Jesper Lind
Vidar Magnussen
Black comedy about a group of four male friends who form a singles club
Producer
Rune Denstad Langlo, Sigve Endresen, Brede Hovland & Yngve Sæther
Starring
Annfinnur Heinesen
Bjarne Henriksen
Annika Johannesen
Pål Sverre Hagen
Television series based on the novel by Johan Harstad about a gardener who is obsessed by being second best in life
Film
Director
Producer
Henrik Bastian Borg
Starring
Hedda D. Asperheim
Anna Bache-Wiig
Ingeborg Bolstad
Anderz Eide
Short film about two journalists investigating the disappearance of two German tourists at a remote village
Producer
Finn Gjerdrum & Torleif Hauge
Starring
Charlotte Frogner
Bjarne Hjelde
Jesper Lind
Bjarte Tjøstheim
Short film about an actress who is rehearsing the Doll's House and decides that life with Ibsen is meaningless
Writer & Director
Producer
Erlend Haarr Erikson
Starring
Vidar Magnussen
Morten Rose
Kristine Rui Slettebakken
Short film about a struggling screenwriter
Starring
Kari Holtan
Benedikte Lindbeck
Sjur Midttun
Stian Sandnes
Starring
Anderz Eide
Charlotte Frogner
Vidar Magnussen
Short film about a couple breaking up
Forfall
Winner: Best Nordic Short Film
Short
Starring
Anderz Eide
Jon Eikemo
Sjur Midttun
Short film about a student trying to avoid paying back his student loan, who enlists the help of his father to avoid his creditors
Starring
Kjersti Fjeldstad
Silje Marie Korsnes
Vidar Magnussen
Sjur Midttun
Short film about an overcrowded hospital corridor