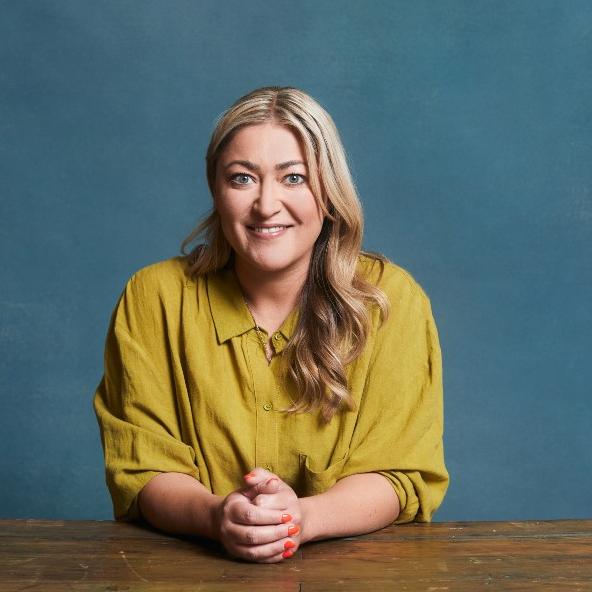 Gina


Lyons

Gina is a producer in both entertainment and scripted comedy
Gina Lyons is a BAFTA Cymru winning producer, who has worked across comedy entertainment and scripted comedy for 18 years. Gina is one of the 20 producers selected from a long list for the BAFTA Elevate Producer's programme 2022. She is also currently one of 40 selected for the WFTV four nations mentoring scheme, has produced several award winning short films and was a Hospital Club H100 winner in 2015. Gina produced both pilots for the critically acclaimed 'In My Skin' (BBC3) and Dreaming Whilst Black for Big Deal Films (BBC3).

Nerys Evans, head of comedy at Expectation Entertainment, said: 'Gina has learnt much coming through live comedy and entertainment TV. It is this grassroots route that has given her a sharp eye in spotting talent and a propensity for backing surprising and diverse stories… I know she has a very bright future ahead of her.'

Gina's career in television began when she was the winning contestant of Channel 4's Get Me The Producer in 2007. This led to a Development Producer job at Graham Norton's SO TV where she worked for five years. After deciding to go freelance, Gina produced the second series of I'm Spazticus for Channel 4.

Gina then went on to develop, pitch and produce several comedy entertainment programmes including The Totally Senseless Gameshow for BBC3, Before The Morning After for NBC new comedy Channel Seeso and Safeword for ITV2. Gina also helped create The Kaning Live with Russell Kane, which was the first show of its kind to air on Facebook and attracted 1.5m viewers.

After being headhunted by Emma Scott at Beano Studios, Gina attracted well known talent such as Russell Kane, Anna Morris, Tom Bell and Rachel Pariss and produced a number of sketches for them, which led to the Network winning the award for Best Children's Digital Content at the Broadcast Awards in 2018.

Moving into Scripted programming in 2017, Gina produced the multi nominated short film Not Sophie's Choice starring Catherine Tate and Alex Macqueen and Elderflower starring Tom Rosenthal, Lou Sanders and Sheila Reid which became Vimeo's Short of the Week.

A working class girl who had lunch vouchers at school, Gina is passionate about working with story tellers from diverse backgrounds.


Film
Producer
Short film written by Ed Kear, directed by Ed Kear and Cringo Williamson. Starring Laura Aikman, Tom Stourton and John Ojeyemi.



Short film directed by Freddie Waters and starring Jack Whitehall, Lolly Adefope and Ellie White.




Short film starring Catherine Tate and Alex Macqueen


Short film starring Tom Rosenthal, Lou Sanders and Sheila Reid


Television
Producer
TV adaptation of the hit web series, Dreaming Whilst Black is a 6-part drama-comedy series that follows a young but naive British Jamaican filmmaker, Kwabena, as he struggles to navigate between his dreams and reality.



Big Deal Films
for
BBC Three
In My Skin
BAFTA Cymru Winner 2019 for Best Television Drama & Nominated for a RTS Cymru Award 2020 for Best Drama
Produced the scripted comedy drama In My Skin, written by BAFTA Rocliffe Winner Kayleigh Llewellyn and starring Jo Hartley and Gabrielle Creevy. Also broadcasted on BBC1 Wales.

Expectation Entertainment
for
BBC Three
Series produced a stand up show, which was inter-cut with sketch, archive and talking heads.




Edit producing for Sport Relief's comedy game show 'And They're Off.'




Gina developed, pitched and produced Russell Kane's Kaneing Live, from Facebook HQ. Our first show starred Katherine Ryan, James O Brien and Janet Street Porter. Episode 2 was viewed 1.2 Million times.



Kaning Productions/ Off the Kerb
for
Facebook
Beano Studios
Broadcast Digital Awards - 'Best Children's Digital Content' 2018.
Developed and produced comedy sketches with Anna Morris, Marek Larwood, Milo Mccabe, Rachel Parris and Tom Bell, Late Night Gimp Fight and Russell Kane.
Produced an hour long pilot hosted by Rylan Clarke-Neal, with team captains Vicky Pattison and Tom Rosenthal.



Produced the 6 x 45m comedy panel show, hosted by Rick Edwards.



Pitched, produced and edited a 10 x 15 min series for NBC Digitals new platform SEESO.



Brown Eyed Boy
for
NBC Universal
Script edited, cast and produced Richard Gadd's non TX 30 min sitcom pilot starring Lesley Joseph, Ricky Grover and Kathryn Drysdale.




Brown Eyed Boy
for
Channel 4
Hidden camera online series starring Neg Dupree for Comedy Central.




Running Bare Productions
for
Comedy Central
Development, pitched and produced Comedy Central's UK Impractical Jokers pilot starring Late Night Gimp Fight



Yalli Productions
for
Comedy Central
Developed, pitched and produced an hour long comedy gameshow starring Martin Dougan from C4 Paralympics.




Roughcut Television
for
BBC Three
Produced the second series of Channel 4's all disabled hidden camera show.




Zeitgeist Television
for
Channel 4
Development Producer
Developed ideas for Trigger Happy TV (C4), pitching new ideas and working up youth oriented programming.



Spirit Media
for
Channel 4
Developed Safeword with Gary Chippington - which went on to have 2 series.