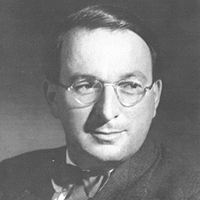 Glyn


Daniel

Archaeologist and novelist

1914–1986
Glyn Daniel was born in Barry, South Wales. He worked at Cambridge University as an academic, becoming Disney Professor of Archaeology in 1974 and editor of Antiquity between 1958 and 1985. His main subject of study was Neolithic chamber tombs, though he also wrote books on the history of archaeology and archaeological thought.
Glyn Daniel also wrote detective fiction under the pseudonym Dilwyn Rees. His novels feature Sir Richard Cherrington, an eminent but slightly eccentric archaeologist who is the Vice-President of Fisher College, a character based on the author himself.