book
| Fiction
| Jan 2022
ANZ →
Picador Books
(Ed. Cate Paterson)
UK & Comm →
Picador Books
(Ed. Sophie Jonathan and Paul Baggaley)
Prussia, 1836
Hanne Nussbaum is a child of nature - she would rather run wild in the forest than conform to the limitations of womanhood. In her village of Kay, Hanne is friendless and considered an oddity...until she meets Thea.

Ocean, 1838

The Nussbaums are Old Lutherans, bound by God's law and at odds with their King's order for reform. Forced to flee religious persecution the families of Kay board a crowded, disease-riddled ship bound for the new colony of South Australia. In the face of brutal hardship, the beauty of whale song enters Hanne's heart, along with the miracle of her love for Thea. Theirs is a bond that nothing can break.

The whale passed. The music faded.

South Australia, 1838

A new start in an old land. God, society and nature itself decree Hanne and Thea cannot be together. But within the impossible...is devotion.

This long-awaited novel demonstrates Hannah Kent's sublime ability with language that creates an immersive, transformative experience for the reader. Devotion is a book to savour.

Rights
Kate Cooper manages the translation rights for Devotion
Audio Rights
Available
The audio rights are handled by Pippa Masson.
Film Rights
Available
Contact Pippa Masson for more information
Translation Rights Sold
Greek
World
Ikaros Publishing Company
Lithuanian
World
Baltos Lankos
Spanish
World
Alba Editorial
Media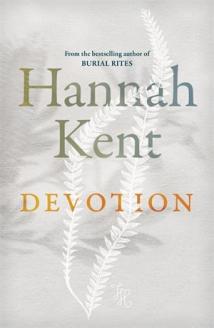 Reviews
'Devotion is rare and exquisite, both beautiful and muscular in its portrayal of love found and denied. It's a story of love as a radical act, and a celebration of place and persistence. As we've come to expect from Kent, this is masterful storytelling with pull-no-punches stakes. It's taken root in my heart.'


Kiran Millwood Hargrave, author of The Mercies
....the reader is immersed in a rich, vibrant and fully realised world. The book's structure is masterfully used to play into reader expectations before subverting them. Kent conjures up images and emotions vividly, but there isn't a single sentence that could be easily cut.....a sweet, tragic but also surprisingly joyous tale.

Australian Bookseller and Publisher
Full Review
'A glorious love story'

Sarah Winman, author of Still Life
'So beautiful and so raw . . . Impossibly good'

Evie Wyld, author of The Bass Rock