Sefton Goldberg: mid-thirties, English teacher at Wrottesley Poly in the West Midlands; small, sweaty, lustful, defiantly unappreciative of beer, nature and organised games; gnawingly aware of being an urban Jew islanded in a sea of country-loving Anglo-Saxons.
Obsessed by failure - morbidly, in his own case, gloatingly, in that of his contemporaries - so much so that he plans to write a bestseller on the subject.
In the meantime he is uncomfortably aware of advancing years and atrophying achievement, and no amount of lofty rationalisation can disguise the triumph of friends and colleagues, not only from Cambridge days but even within the despised walls of the Poly itself, or sweeten the bitter pill of another's success....
Rights
Audio Rights
Available
The audio rights are handled by Alice Lutyens.
Film Rights
Available
Contact Nick Marston for more information
Kate Cooper manages the translation rights for Coming from Behind
Media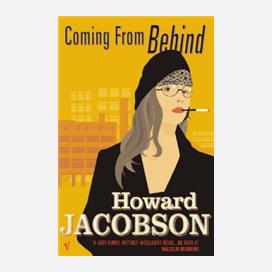 Reviews
A very funny, bitterly intelligent novel... do read it.
Malcolm Bradbury
Witty, observant, clever, a first-rate entertainment and something more besides.
The Guardian
Jacobson's humour is unashamadely savage and his jokes as sharp as a switchblade... comic vitriol worthy of Evelyn Waugh.
Sunday Express
Howard Jacobson is one of the funniest writers alive.. his writing pulsates with nerve and edge; it is colossal in its comic precision; at best it simply tears you apart.
The Times